the History of Science and Technology Society presents
Alternative Histories of Science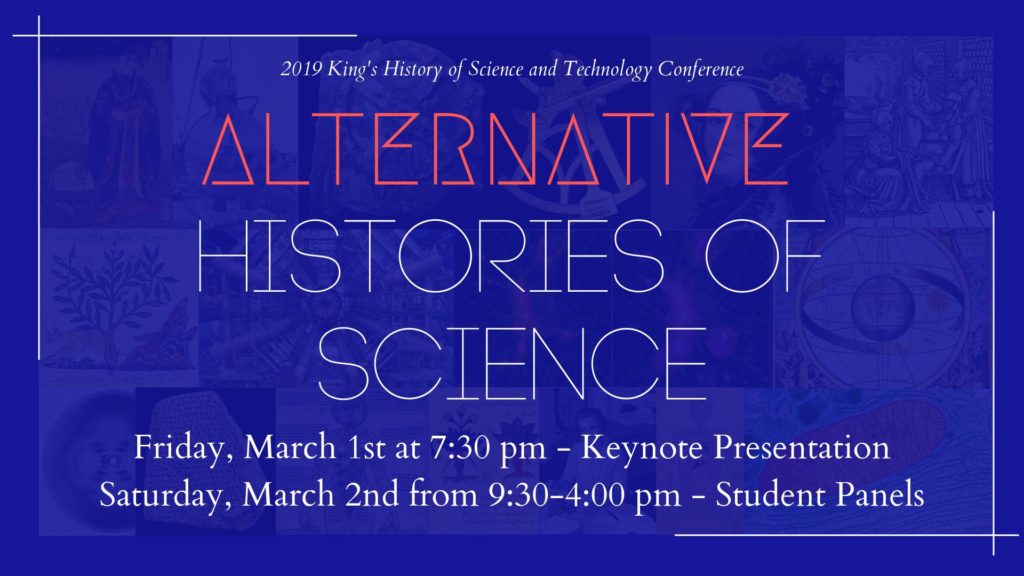 Students in the History of Science and Technology program present a conference of their work. On Friday, Dr. Jonathan Ferrier, Assistant Professor of Biology at Dalhousie University will present a keynote address on how his Anishinaabe roots inform his work in conservation, ethnobiology, native medicine and more. On Saturday, student panels will be held in the KTS Lecture Hall.
Friday, March 1 — Keynote Presentation
Dr. Jonathan Ferrier
7:30 p.m., KTS Lecture Hall, New Academic Building
Saturday, March 2 — Student Panels
9:30 – 10:30 a.m. — Cyborgs, Music and Feminism
"Technology and Ideology in You Are Not a Gadget", Nathan Ferguson
"The Art and Creativity of Humans and Machines", Alia Hazineh
"Electric Ladies and Therolinguists: the non-human in modern feminism", Katerina Cook
10:45-11:45 a.m. — Unheard Narratives in Science
"Mary Anning, Visibility, and Visual Representation in Early 1800's Dorset", Evangeline Freedman
"Ada Lovelace, Historical Context, and the Musical Engine Thought Experiment", Megan Krempa
"The Taxonomical History Of The Fairyfly Anagrus atomus", Tiara Mulder
11:45 a.m. – 12:30 p.m. — Lunch
12:30-1:30 p.m. —  Re-examining the Tree of Life
"On the Material History of Molecular Evolution and Lateral Gene Transfer", Cédric Blais
"The Evolution of the Chain of Being: An Examination of the History of the Chain of Being and its Effect, in Relation to Leibniz and Darwin", Kate Ingman
"Studying Lateral Gene Transfer Using Persistent Homology", Curran Mcconnell
1:45 – 2:45 p.m. Science, Race, and Gender
"can u take birth control and not hate urself?: The Subjective Experience of Birth Control as a Consumer in the 21st Century", Isabelle Reynolds
"Feminizing the (Scientific) Revolution: Feminist Science as a Kuhnian Paradigm", Rachel Colquhoun
"The Ontological Big Bang: Disjunctures in Indigenous and Eurocentric Ontologies", Mitherayee Augustine
3 – 4 p.m. As Above, So Below (The Ocean)
"Naval Submarine history in relation to Simon Lake and Jules Verne's 20,000 leagues under the Sea", Lucia Dodaro
"Ancient Monsters and the Deluge: a History of Geological Interpretation", Madison Matthews
"Walvisjacht: the Rise of Dutch Whaling in the 17th Century", Keenan Livingstone
Find the event on Facebook.