2020 HOSTcon Keynote Lecture and Book Launch
"When Women Fought For Space"
Amy Shira Teitel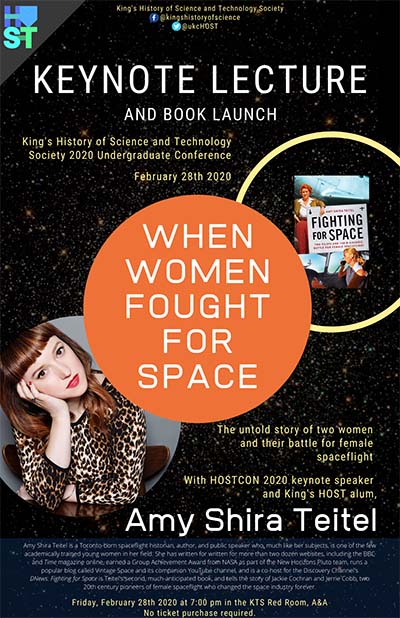 The King's History of Science and Technology Society is thrilled to announce keynote lecture of this year's HOSTcon: "When Women Fought For Space" by Amy Shira Teitel!
Amy Shira Teitel is a Toronto-born spaceflight historian, author, and public speaker who, much like her subjects, is one of the few academically trained young women in her field. She has written for more than two dozen websites, including the BBC and Time magazine online, earned a Group Achievement Award from NASA as part of the New Horizons Pluto team, runs a popular blog called Vintage Space and its companion YouTube channel, and was a co-host for the Discovery Channel's DNews. Fighting for Space is Teitel's second, much-anticipated book, and tells the story of Jackie Cochran and Jerrie Cobb, two 20th century pioneers of female spaceflight who changed the space industry forever.
We are incredibly lucky to have an incredible academic, public figure, and HOST alum like Teitel open our 2020 HOST Conference, and we hope you will join us in welcoming her back to King's! Books will be available for purchase at the keynote for those interested (we definitely will be…).
The keynote lecture, which is free and open to the public, will be followed by a reception with wine and snacks, and an opportunity to chat with Teitel.