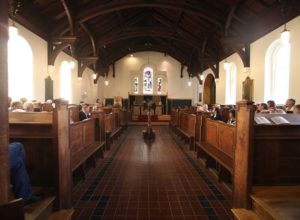 Join us for Holy Week in the King's College Chapel.
Sung by the King's Chapel Choir under the direction of Dr. Neil Cockburn.
Paschal Triduum – the three days of observation of the Passion, Crucifixion, Burial and Resurrection of Jesus.
Maundy Thursday – April 6 – 5 p.m. – Mass of the Last Supper
Good Friday – April 7 – 10 a.m. – Liturgy of the Passion and Death
Holy Saturday – April 8 – 11 p.m. – Great Vigil & First Mass of Easter
This year the Holy Week Missioner is Alan Hall – lecturer in Great Books at St. Thomas University.