UPDATE: This seminar has been postponed from January 16th until Monday, January 23rd from 3 p.m. – 4:30 p.m.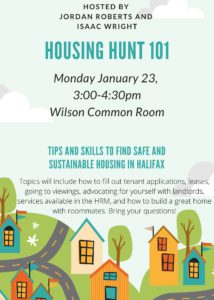 Trying to find a place to live in Halifax?
Join Jordan Roberts and Isaac Wright for this housing support event. They'll offer tips and skills to find safe and sustainable housing in Halifax.
Topics will include:
how to fill out applications
leases
going to viewings
advocating for yourself with landlords
services available in in the HRM
As well as how to build a great home with roommates. So, bring your questions!