Unfortunately, we must postpone this event due to Covid-19. This event will now happen Friday, January 13, 2023 in Paul O'Regan Hall at Halifax Central Library.
If you have booked a ticket, it remains valid for this rescheduled date. Please let us know at afterwordslitfest@gmail.com if you will be unable to use your ticket on this new date, and we will make it available to someone else.
Thank you so much for your patience and understanding. We look forward to seeing you on January 13! 
---
Opening night of the 2022 AfterWords Literary Festival will feature Jesse Wente in conversation at the Halifax Public Library with journalist and King's faculty, Rogers Chair in Journalism Trina Roache. Their conversation will be followed by an audience Q&A.
AfterWords describes Wente's book Unreconciled as "a forthright, passionate reminder that we can't skip over truth and still get to reconciliation … Wente looks at Indigenous representation and identity through a pop culture lens, and explores and exposes the 'two-founding nations' myth Canada is built on."
The evening will begin with David Bergen and Alex Pugsley reading from and talking about their recent books.
Tickets for this event are free, but advance registration is encouraged. Doors at 6:30 p.m., David Bergen and Alex Pugsley at 7 p.m., Jesse Wente and Trina Roache at 8:30 p.m.
About Jesse Wente and Trina Roache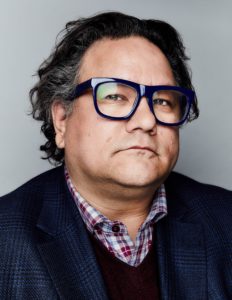 Jesse Wente is a husband and father, as well as a writer, broadcaster, speaker and arts administrator. Born and raised in Toronto, his family comes from Chicago and Genaabaajing Anishinaabek and he is a member of the Serpent River First Nation. Wente is best known for more than two decades spent as a columnist for CBC Radio's Metro Morning. In 2018, Wente was named the founding director of the Indigenous Screen Office and in summer 2020 he was appointed Chair of the Canada Council for the Arts. Wente received the Arbor Award from the University of Toronto in 2021 for his volunteer contributions and was recently appointed a Senior Fellow of Massey College. His first book Unreconciled: Family, Truth and Indigenous Resistance is a national bestseller and was picked as one of best books of 2021 by Chapters-Indigo, Apple Books and The Globe and Mail. Wente has also recently been nominated for the Kobo Emerging Writers Prize in Non-Fiction.
Trina Roache is a proud member of the Glooscap First Nation and an award-winning Mi'kmaw video journalist. A University of King's College alumnus (BJ '00), Roache has worked in radio and TV for CBC, APTN National News, and APTN Investigates. She's covered stories in the unceded territory of the Mi'kmaq, Wolostoqey, and Pestomuhkati Nations, from politics to policing to land protection.
Her work has earned regional and national awards from the Atlantic Journalism Awards, Amnesty International Canada, the Canadian Association of Journalists, and the Native American Journalists Association.
Roache brings a Mi'kmaw perspective and years of experience in visual storytelling to her position on faculty as the Rogers Chair in Journalism.
This event is presented by the University of King's College.