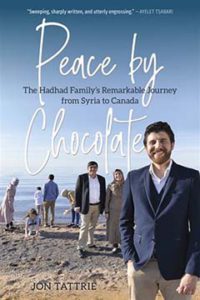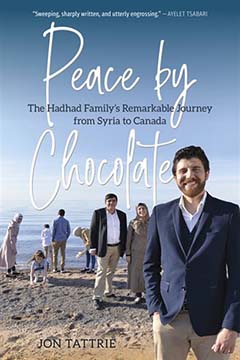 Books by Heart at the University of King's College presents Jon Tattrie, author of Peace by Chocolate: The Hadhad Family's Remarkable Journey from Syria to Canada, in conversation with Tareq Hadhad, founder and CEO of Peace by Chocolate.
Peace by Chocolate is a remarkable book tells the extraordinary story of the Hadhad family and the founding of the chocolatier. From the devastation of the Syrian civil war, through their life as refugees in Lebanon, to their arrival in a small town in Atlantic Canada, Peace by Chocolate is the story of one family. It is also the story of the people of Antigonish, Nova Scotia, and so many towns across Canada, who welcomed strangers and helped them face the challenges of settling in an unfamiliar land.
This event is open to the public and all are welcome to attend. And yes, there will be chocolate!
About the speakers:
Tareq Hadhad is the founder and CEO of Peace by Chocolate. He is a Syrian-Canadian entrepreneur and a public keynote speaker, the recipient of Start Up Canada's National Newcomer Entrepreneur Award, named one of the Top 25 Immigrants in The Maritimes and selected by Google as the National Hero Case for 2018, and won EY Entrepreneur Of The Year Atlantic award 2021. He was awarded RBC's top Immigrant Award and Entrepreneur of the Year in 2020 and Queen Elizabeth II's Platinum Jubilee Medal.
Jon Tattrie is a journalist and the author of two novels and six nonfiction books, including The Hermit of Africville and Peace by Chocolate. He holds an MFA in creative nonfiction from King's and is the editor of Atlantic Books Today.
About Books by Heart:
Members of the King's community have free, unlimited access to a collection of Atlantic Canadian eBooks and audiobooks, through Books by Heart, which is being tested at King's before launching in a Nova Scotia hospital. Peace by Chocolate will be added this month, along with 10 other new books to refresh the collection, so stay tuned for more information on how to read!