Several times each semester, President Lahey brings a King's alum to have lunch in the lodge with current students. Together, they enjoy a delicious meal and casual conversation. This time, King's alum Andrew Soren, BA(Hons)'02, joins the table.
---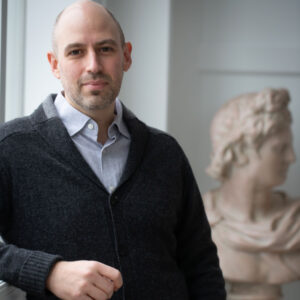 Andrew Soren is the Founder and CEO of Eudaimonic by Design, a global network of facilitators, coaches and advisors who share a passion for well-being and believe organizations must be designed to enable it. Together, they harness the best of scholarship and years of experience to advise organizations and design systems that unlock potential and bring out the best in people.
For the past 25 years, Andrew has worked with some of the most recognized brands, non-profits and public sector teams to co-create values-based cultures, develop positive leadership and design systems that empower people to be their best.
Andrew is a board member of the International Positive Psychology Association, and chaired the 8th World Congress on Positive Psychology in 2023. Since 2013 he has been part of the instructional team with the University of Pennsylvania's internationally renowned Masters  of Applied Positive Psychology program. He is also the past president of the program's Alumni Association.
He was a senior advisor in Governance, Culture and Leadership at LRN and spent 13 years at BMO Financial Group, where he led strategy in both marketing and human resources, focusing on brand revitalization, leadership development and the co-creation of high performance culture. Andrew is an ICF certified coach through the Co-Active Training Institute (formerly the Coaches Training Institute) and is based in Halifax, Canada.
To reserve your spot at the table with Andrew on Wednesday, November 22, please email Alumni Relations Manager, Kimberly Gosse, at kimberly.gosse@ukings.ca. Please also indicate if you have any dietary restrictions in your email.