Several times each semester, President Lahey brings a King's alum to have lunch in the lodge with current students. Together, they enjoy a delicious meal and casual conversation. This time, Board of Governors' member and King's alum Jennifer Thornhill Verma, BJ(Hons)'02, MFA'19, joins the table.
---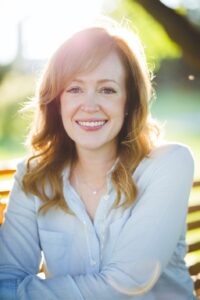 Jenn Thornhill Verma, BJ(Hons)'02, MFA'19, is a journalist, visual artist and non-profit executive from Corner Brook, Newfoundland and Labrador (NL), now living in Ottawa with her family. She has Master's degrees of Fine Arts (Creative Nonfiction, University of King's College) and Science (Medicine, Memorial University of Newfoundland), is a fellow of the Royal Canadian Geographical Society, an alumna of the Oxford Climate Journalism Network and executive lead of the Global Commission on Evidence to Address Societal Challenges.
In 2019, Jenn published her first book, "Cod Collapse: The Rise and Fall of Newfoundland's Saltwater Cowboys," which features her cover art and was shortlisted for a historical writing award at the 2021 Atlantic Book Awards. Jenn's book inspired her first short-film, "Last Fish, First Boat," recounting the story of a fifth-generation fisherman who pivots to boat-building after the cod fishery closes.
In 2020, Jenn's landscape art was recognized for best cover (magazine) at the Atlantic Journalism Awards (AJAs), where she has been a repeat nominee (a thrice silver winner for best profile article). Also nominated for a data journalism award at the Canadian Association of Journalists awards (2023), best science and technology storytelling award at the Digital Publishing Awards (2023), and best new magazine writer at the National Magazine Awards (2019), Jenn has bylines in Canadian Geographic, CBC, The Independent (NL), The Globe and Mail, The Narwhal, Reader's Digest, and more.
Jenn also serves on the boards of the University of King's College (also serving as the Alumni Association's vice president), Bruyère Continuing Care, Nourish Leadership and the Justice Emmett Hall Memorial Foundation.
To reserve your spot at the table with Jenn on Tuesday, September 27, please email Alumni Relations Manager, Kimberly Gosse, at kimberly.gosse@ukings.ca. Please also indicate if you have any dietary restrictions in your email.