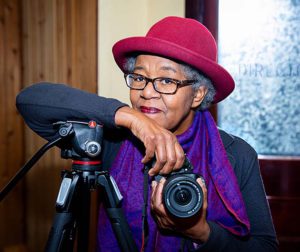 Sylvia Hamilton is an award-winning filmmaker, educator, historian, artist, writer, journalist, public speaker, poet, and activist from Nova Scotia. In addition to teaching in the School of Journalism at the University of King's College, Hamilton co-founded a program with the National Film Board to provide women of colour and Indigenous women with opportunities to make film. Her films focus on the struggles and accomplishments of African Canadians and include the Gemini Award-winning Speak It! From the Heart of Black Nova Scotia and Black Mother Black Daughter, the first film from the Atlantic National Film Board studio crewed entirely by women. Her 2014 poetry collection And I Alone Escaped You was shortlisted for the League of Canadian Poets' Gerald Lampert Memorial Award and the JM Abraham Poetry Award. Among her many accolades, Hamilton has received the Nova Scotia Portia White Prize, the CBC Television Pioneer Award, and a QEII Diamond Jubilee Medal. Finally, in 2019 she became the recipient of the Governor General's History Award for Popular Media, the Pierre Berton Award.
This virtual discussion is free to attend and accessible to the public. The talk is hosted on Zoom and is a secure space where audience members will only be able to listen without video and type questions in the chat.
---
The research cluster Memory Activism: Collaborative Processes of Counter-Memorialization, consisting of faculty and students from the University of King's College and NSCAD University, are facilitating a free online speaker series on the topics of memory activism between March 15 and May 5, 2021.