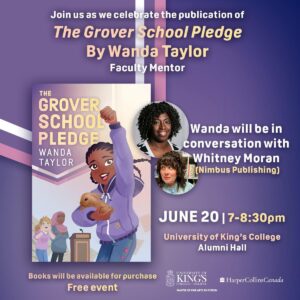 Come to Alumni Hall to hear Wanda Taylor, a Mentor in the new MFA in Fiction at King's, in conversation with Whitney Moran about her new book The Grover School Pledge. 
Taylor is a mentor in King's new MFA in Fiction program. She is also an award-winning writer, filmmaker, journalist and college professor.
As an author of fiction and nonfiction, Wanda writes across children's, YA and adult markets.
This free event begins at 7 p.m. ADT.