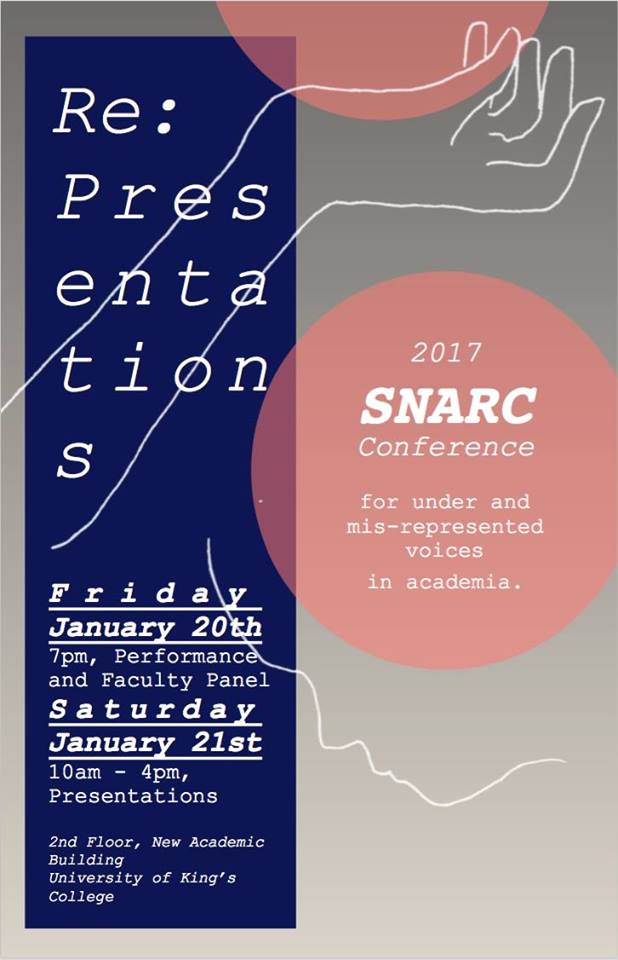 Re:Presentations is the second annual conference hosted by Students Advocating Representative Curricula. This conference aims to provide a space for the discussion of typically under- and mis-represented voices in academia, including BIPOC, 2SLGBTQ+ folks, women, and folks affected by mental illness or physical disability. The conference will be held January 20th and 21st. There will be a performance and faculty panel the evening of the 20th, and student presentations all day on the 21st.
The weekend will open on Friday at 7 pm with a spoken word performance from El Jones, followed by a faculty panel featuring Dr. Dorota Glowacka (King's), Dr. Isaac Saney (Dalhousie TYP), Dr. Margaret Robinson (Dalhousie), and Dr. Carla Taunton (NSCAD). Saturday features a series of student panels running from 10-4:00 pm. The entire conference is open to the public and will take place on the second floor of the NAB.
Re:Presentations is entirely student-run and coordinated by Emma Renaerts and Becca Steele (with the support of the student society SNARC, and the rest of the campus community). The conference is taking place on unceded Mi'kmaq territory.
Friday, January 20
7pm: Performance and Faculty Panel
Saturday January 21
10am-4pm: Presentations