Dr. Neil Robertson will deliver an illustrated lecture titled "The Harmonic World of Bach," in a special event hosted by the Toronto Bach Festival. Accompanied by a concert, this illustrated lecture will connect Bach's music to the wider context of eighteenth century thought and culture, with its call for reason, feeling and humanity.
This event will be broadcast online.
King's students, alumni and faculty receive a special discount on tickets for this event and on Toronto Bach Festival season passes! $15 for tickets to "The Harmonic World of Bach," or $30 for a season pass!
"The Harmonic World of Bach"
Discount code for students, alumni and faculty: KingsTx
Season pass
Discount code for students, alumni and faculty: KingsPass
Standard tickets for this event are $20 (provides access to the video for 2 weeks after the event date), or $60 for a season pass to all Toronto Bach Festival events (provides access to all videos for 6 months).
---
Jennifer Bell, BA(Hons)'91, chair of the board of the Toronto Bach Festival, shares how catching up with King's friends over dinner in Toronto–and a chance encounter with a harpsichordist–resulted in this collaboration: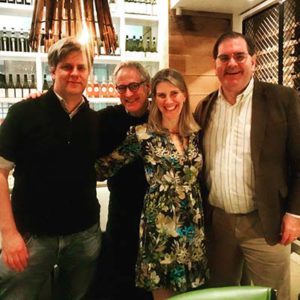 "I have fond memories of my time at King's, and the friendships made there have enriched my life ever since. For this, it is helpful to live in Toronto, where old friends from King's often pass through for work or family reasons. In late 2019, Neil Robertson and Peter O'Brien were here recruiting new students. We had dinner, along with fellow alumnus Tali Folkins, BA'90, BA(Hons)'92, BJ'00, and the next day I was able to join Neil at an exhibition of early Rubens paintings at the Art Gallery of Ontario.
"Rubens! Oversized canvases bursting with corpulent maidens and grisly scenes from the Old Testament, right? In fact, the exhibition was a revelation, with scenes of tenderness and beauty among the gore. To add to the charm, the curators had commissioned harpsichord music to be played in the gallery. As chair of the board of the Toronto Bach Festival, I have gotten to know some of the city's finest musicians, and at the exhibit, Neil and I bumped into the harpsichordist Chris Bagan. It was clear from our conversation that Neil was passionate about music, and I promised I would send information about our festival the following spring.
"The pandemic had other ideas, of course. The festival, planned as our triumphant fifth season, was abruptly cancelled, and we set about thinking of ways to create rich content that could be delivered virtually. I remembered my conversation with Neil: perhaps he would be interested in giving a Foundation Year-type lecture about Bach's world? Maybe we could combine it with musical 'illustration', so that the ideas Neil discusses could be demonstrated and amplified by musicians from the Toronto Bach Festival?
"I hope you will be as excited as I am to tune in to the results of that serendipitous meeting."
Jennifer Bell lives in Toronto with her family.
---
Banner Image: Johann Sebastian Bach, Elias Gottlob Haussmann, 1748