Find out about this year's Worldwide Alumni Celebration.

In our Alumni Association's 170th anniversary year, we're starting a new tradition: the Worldwide Annual Celebration (WAC) on October 20th.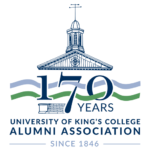 Wherever you are, you can celebrate. There are 25 events around the globe. If you want to attend an event, visit kingsalumni170.ca to find an event in your neck of the woods. If you want to host, we've got the tools to get you started!
And this event is for all alumni everywhere. So on October 20, show us where you are. Take a selfie and some scenery and share on social media with #kingsalumni170.
Get in touch with Kathy Miller to get involved.