Jessica J. Lee, BA(Hons)'08, has always wanted to tell the story of her family's history. She recalls attempting to write a novel as a third-year undergraduate at King's, a fictionalized version of her grandparents' story. "It's a book that I've been wanting to write forever," Jessica explains. "I could never really find my feet with it, so I just had this story in the back of my mind, and in a folder on my computer that I never opened."
When the timing was right, Jessica returned to that untold story. The story she had been wanting to tell for over a decade became Two Trees Make a Forest and was published in 2019. And in November 2020, her book was awarded the Hilary Weston Writers' Trust Prize for Nonfiction, the top prize for nonfiction writing in Canada.
The book came together in a beautiful way. In 2016, Jessica's mother discovered a letter that her father had addressed to her but that she never received. Jessica explains that in the letter her grandfather had written a memoir of his life.
"He had written it as he was developing Alzheimer's, so it was really fragmentary… this sort of cyclical, broken text that didn't always make sense, but told us more of him than we had ever known."
Jessica's mother gifted her the letter, along with her blessing to tell their story. It was the missing piece of the puzzle. "If I had forced this through when I was trying to write it as a novel, it wouldn't have worked. I had to wait. And then that text appeared, and it was the piece I had been missing."
Using the letter from her grandfather as the backbone of the book, Jessica also used decade-old interviews with her grandmother, alongside her own experiences and accounts of travelling in Taiwan. Jessica took several trips to her maternal grandparents' homeland in an effort to gain a deeper understanding of the environment, culture and language in which they once lived.
"The core narrative spans a three-month period that I spent in Taiwan, hiking while trying to chase down my grandparents' story, trying to find a kind of muscle memory in the landscape." For Jessica, an environmental historian, exploring the natural landscape through trekking was a means of reconnecting with her heritage and an opportunity to develop a more complete understanding of her grandparents' story.
The success of Two Trees Make a Forest follows the significant acclaim she received for her first book, Turning, which was longlisted for the Frank Hegyi Award for Emerging Authors. In addition, Jessica was awarded the 2019 RBC Taylor Prize Emerging Writer Award.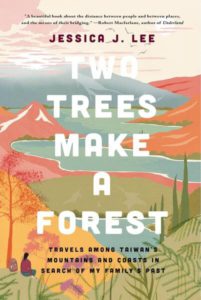 Like Two Trees Make a Forest, Turning also grounds a personal narrative in an exploration of nature and landscape. It began with fieldwork Jessica conducted with winter swimmers in the UK as part of her PhD research. This fieldwork developed in Jessica a fascination with lake swimming. While living in Berlin to complete her PhD thesis, Jessica was inspired to explore this interest further when she learned that the city was surrounded by thousands of lakes. In response, she challenged herself to swim in 52 different lakes over one calendar year, in any and all weather conditions.
"Being able to get out into the landscape and to write about that and to have the experience of connecting very physically really gave me structure," Jessica explains. "I think creatively, that was really good for me, because it interrupted my own sense of where I thought I was going."
The same can be said for this year. In the midst of the pandemic, Jessica and her husband had to move from Berlin back to London. "After COVID hit I realized how much of my profession up until now has been predicated on me being able to travel easily, and how most of the publishing I do is in the UK. I realized that was untenable; so, we decided to move back. And that was not a planned thing."
Nonetheless, the disruption and the unexpected change provided new opportunities—Jessica recently accepted a part-time job at the University of Cambridge, working on a five-year research project funded by the Wellcome Trust.
"My job is basically to think of ways to communicate the history of science research that we are doing in the project—radio programs and engaging the public… it's cool to find my way back into academia with the training that I have previously, but actually, what makes it work for me is that I'm a writer," she explains. "Everything has really come together for me this year in a way that I hadn't really anticipated. It was all just a bit like dominos, one thing after the other, just working out."
As an author and environmental historian, Jessica has truly created her dream job; a job that she didn't know existed when she was a student at King's. "Where I am now, I can't even articulate it – it was my inarticulable dream when I was at King's – but, I would have never told anyone that. Because it seemed too unrealistic, too impossible. Even impractical."
Originally coming to King's for journalism, Jessica shifted to the Contemporary Studies Program (CSP) after completing the Foundation Year Program (FYP). After getting her master's degree in Humanities and Cultural Studies, she took a break from academia and found work with a non-profit in London. A few years later, and with more certainty that academia was the path she wanted to follow, Jessica moved to Toronto to embark on her PhD in Environmental History and Aesthetics. A little further down the line, when her PhD supervisor offered the chance to study in Germany for six months, she went, fell in love with Berlin and stayed for six years.
"It's strange to me that I circled back and became a writer in the end… I got there in the end, I just had to take a very different path." Jessica explains, "It might be ten years before you're in your dream job, but it is doable!"
Alongside her research position at Cambridge, Jessica plans to spend the winter and spring working on new nature writing material for a third book.
"I often come back to thinking about my time at King's. It gave me my framework for thinking and that is what has helped me to do all of this, because I approach it with multiple ideas in mind all the time. I try to not be so rigid, basically, about how I approach things."