A lot of effort and generosity went into renovating HMCS King's Wardroom so it could look and function better than ever, and at an event this spring, King's was able to officially thank some of those who made it all possible.
The HMCS King's Wardroom is not only a present-day campus hang-out, it's also a symbol of a long and cherished relationship between the university and the Royal Canadian Navy. Ten years ago, however, the room looked neither commemorative nor inviting.
"This place was grungy. You had to pull your feet off the carpet," said Elizabeth Ryan, BA'69.
Ryan was among other alumni who joined staff, faculty, representatives of the navy and donors at a reception in the Wardroom on May 25. The event marked the fruition of more than five years of renovations and celebrated the many people who made it possible. President Bill Lahey told those who gathered that the Wardroom is "a crucial component of our collegial way of life…that brings the present day to life even as it embodies and preserves our history."
King's naval history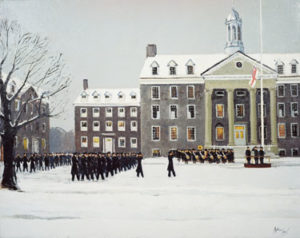 The Wardroom may seem a curious touch for a liberal arts university but memorabilia like the ship's bell are more than decorative: they're a reminder of King's past as a naval officers' training school.
In 1941, the Second World War was intensifying and the Canadian Navy was running out of spaces to train officers. In Halifax, King's students were relocated to Dalhousie University so aspiring naval officers could be boarded and trained on our campus, which became HMCS King's, the stone frigate. Thus began King's lasting relationship with the navy. By the time it was decommissioned in 1945, more than 3,000 sub-lieutenants had trained at King's.
In 1979, thanks to alumni, faculty, the King's Students' Union and the Nova Scotia Naval Officers' Association, this proud link was re-established with the opening of the new HMCS King's Wardroom. After an absence of close to 30 years, the King's community would again "repair to the Wardroom."
"I'm a friend of King's," said 92-year-old World War II veteran Rowland Marshall. Marshall is a member of the Nova Scotia Naval Officers' Association that donated money toward the 1979 renovation. For many years, he and his fellow officers would parade in the King's Quad as the Chapel choir performed alongside. Marshall said relationships like the one between King's and the Navy are part of the city's identity. "It helps make Halifax interesting."
The HMCS King's Wardroom stands as tangible, present-day reminder of our past as WWII Naval Officer's training school. – King's President Bill Lahey
But by the Wardroom's 30th anniversary in 2009, the beloved student pub and study space was showing its age.
Ryan and fellow alumni Steve Wilson, BA'87, Dan de Munnik, BSc(Hons)'02 and Greg Guy, BJ(Hons)'87, initiated fundraising for a once-again reimagined Wardroom in 2011. Eventually, through the generosity of students, alumni, parents, faculty and friends, more than $920,000 was raised and renovations were completed in 2017.
Photo Gallery: HMCS King's Wardroom Donor Recognition and 40th Anniversary Celebration
"People can't just hang out in the classroom," said donor Fred Fountain. "You need some place that's kind of congenial and welcoming." Fred and Elizabeth Fountain's gift provided for the Wardroom's second exit onto the Quad and the renovation that created the Galley, a student-run daytime canteen within the Wardroom.
Today, the HMCS King's Wardroom is a student lounge and study space by day and a lively bar and music venue by night. The pub's wet/dry liquor license allows students of all ages to enjoy the Wardroom's social atmosphere, and alumni are welcome at any time. It's the campus crossroads; students, faculty, staff and alumni often gather at the newly named MacMillan Spoel Bar adorned with the Latin saying: Gaudeamus igitur, Juevenes dum sumas, which means: Therefore, while we are young, let us rejoice.
"It's an opportunity for interaction and engagement on a different level than in a classroom," said donor and King's close friend Roselle Green, DipJ'65, DCL'15. The 92-year-old and her classmates did not have a student pub or study space like the Wardroom when they were at King's. "I think, too, you can have a good exchange here between students and faculty."
"To our donors and benefactors and to HMCS King's Wardroom…long may she sail!" – President Lahey
In his speech at the May 25 event, President Lahey brought up the 1943 Hollywood movie Corvette K-225, which was filmed in Halifax and features King's campus as HMCS King's. In the film, actor Randolf Scott says to actor Ella Raines "King's is a lovely place, do you come here often?" Raines responds, "As often as I can."
Since the remodelling, students old and new are coming as often as possible to study, hangout, have conversations and unwind. Elizabeth Ryan and her husband come most Fridays for a beer and to play pool with students. Like Roselle Green, Ryan did not have a place like this when she studied at King's. "That was what the people who gave money realized. That there was a tradition here, and they wanted to keep the tradition of the Wardroom, but also make a safe, welcoming environment for the students."