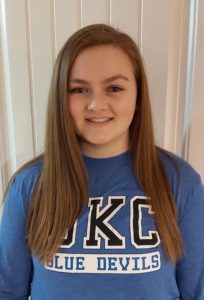 The King's Badminton team has bolstered its ranks yet again, signing New Brunswick Provincial champion, Anna Gillies. A highly decorated Maritime player, Gillies swept the New Brunswick senior women's doubles division from 2018-2020, along with the Atlantic Championships in 2018. Having represented New Brunswick at the 2019 Canada Winter Games in Red Deer, Anna is well traveled in the national circuit, and will be a crucial addition to the Blue Devils 2021-22 ACAA campaign.
"Anna has an aggressive playing style that makes her a very dangerous Women's Doubles and Mixed Doubles asset." says Badminton Coach, Sam White. "Having spent years training with Mike Butler (former Olympian in Badminton), we can't wait to see what she can do within the ACAA and Nationally."
Anna will be the second member of the Gillies family on the Badminton roster, with older brother Jack a member of the 2019-20 ACAA Championship team, and the ACAA Men's Singles representative at CCAA Nationals last year in his rookie season.