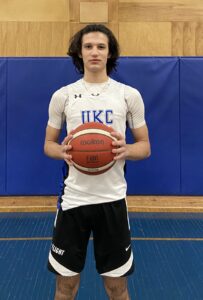 Marco Cvitanovic has become the latest Blue Devils recruit, signing on to join the Men's Basketball program under head coach, Luc Stevenson.
"I chose UKC because the first time I practiced with the team it felt very at home and like I was already part of the family…the tight knit community and enrolling in FYP [Foundation Year Program], which is such a great program where you get to know everyone, is what helped me make my decision," says Cvitanovic. "The coaching staff have great playing experience and they are really connected within the team. Moving from west coast to east feels more of the same – like I've never left and having the sight of water was really important to me."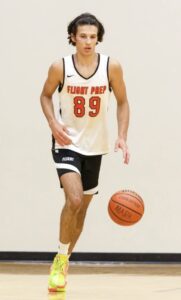 Cvitanovic joins King's from Reynolds Secondary School in Victoria, BC and Flight Basketball Academy. Standing 196 cm (6'5), he can operate at shooting guard or small forward, with the advantage of being a natural left-handed shooter.
"We are thrilled to add a player like Marco with his size and skill set," says Head Coach Luc Stevenson. "He is athletic, can really shoot the ball and score in a variety of ways. He is a top student from BC, somewhere we have had great success recruiting student athletes."