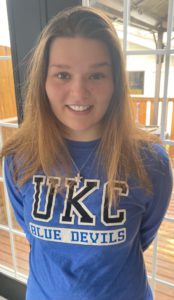 Women's rugby have the completed the signing of Chloe Beamish of Sackville, N.S. Capable at playing flanker, hooker, or No. 8, Beamish was Millwood High School's Most Valuable Player in her final season with the Knights, and has played previously with the Nova Scotia Keltics provincial rugby program.
King's rugby will not be entirely new territory for Beamish, who spent her career at Millwood under the tutelage of King's Head Coach Lysa McGrath. "I chose King's because the people I know who go or have gone all loved the experience they had," says Beamish. "I'm looking forward to having Lysa as my coach again and just playing rugby." Beamish is enrolled in the Foundation Year Program for the 2021/22 academic year, with a further interest in Sociology and Social Anthropology.
---
Interested in becoming a King's Blue Devil and learning about King's? Fill out a recruitment form.