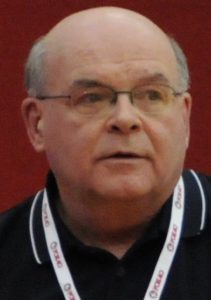 Bev Greenlaw, BA'80, who guided the University of King's College Blue Devils Men's Basketball team to two Nova Scotia College Conference (NSCC) titles and was athletics director at King's for seven years, will be inducted into the Canadian Collegiate Athletic Association (CCAA) Hall of Fame in the coach category this June. 
As head coach at King's, Greenlaw's teams played with energy, finesse and a love and respect for the game which led to six straight appearances in the NSCC conference finals and two championships (1982, 1987) in the conference, now called the Atlantic Collegiate Athletic Association (ACAA).  
The 1986-87 season saw King's achieve an undefeated NSCC season and a no. 2 national ranking. That same year, Greenlaw was awarded the CCAA Coaching Excellence Award in Men's Basketball.   
"His passion for the game and superior basketball mind was only surpassed by the compassion he had for his players and his desire that they succeed in life," said Donnie McLean, a former player of Greenlaw's who was named a CCAA All-Canadian in 1989 and 1990. "To this day, I consider Bev a true friend." 
Greenlaw's collegiate coaching journey began in 1979-80, when he began coaching at King's almost as soon as he graduated from the college. In 1981, he was named the college's athletics director (AD), staying in the position until 1988.  
"Coaching and being an AD in the CCAA gave me an opportunity to share in the lives of a whole lot of individual humans who have far greater talents than me and following their journeys through life has given me considerable pleasure," said Greenlaw. 
"One of those pleasures is to witness the subsequent evolution and advances of the CCAA and the ACAA as these athletic organizations have given so many talented athletes opportunities that they would not otherwise have had, to test themselves, to be part of something greater than themselves, to learn and grow, and to clarify their own intentions as they follow their own pathways."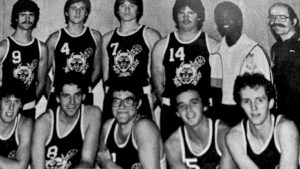 In addition, Greenlaw made an impact with the CCAA Board, becoming the Nova Scotia representative to the CCAA in 1984 and subsequently joining the CCAA Executive as VP Administration.  
His initial personal encounter with the CCAA came at the 1981 Annual General Meeting in Quebec City. Greenlaw and others spoke on behalf of the NSCC to help make the case for the CCAA Board to accept King's and Mount Saint Vincent University as the first degree-granting members of the Association. 
"The exchange in Quebec City was lively, but always respectful and very human in its essence," said Greenlaw. "That experience introduced me to a wonderful collection of human beings, who were governing a still-young national organization of colleges as they built a nationwide athletic organization to support canadian college athletes in their pursuit of competitive excellence." 
Prior to his time in the CCAA, Greenlaw's love of coaching led him the community YMCA in the North End of Halifax, where he coached all levels of basketball for 15 years. His work with these young players laid the foundation for many great local players and teams of the future.   
"He is in every way a pioneer of modern-day varsity sports, a true builder of teams and a part of a Blue Devils brand that was molded and developed during his era," said Neil Hooper, director of athletics at King's. "The foundations of inclusiveness, passion and a caring and nurturing environment where students can thrive, still exists today." 
The 2022 CCAA Hall of Fame Banquet will take place on Tuesday, June 14 in Halifax, NS.