As King's welcomed a new cohort of first-year students to campus in September, the community got its first look at renovations that have transformed Alexandra Hall into the university's first accessible residence.
Gone are the exterior steps. From the Quad, a sloping pathway now leads to the front door of Alex Hall where attractive benches frame the residence's new grand entrance. This is the first, most evident change made as part of an extensive renovation of Alex Hall that took place over the spring and summer. The renovations transformed King's largest residence into a space that is accessible to all students.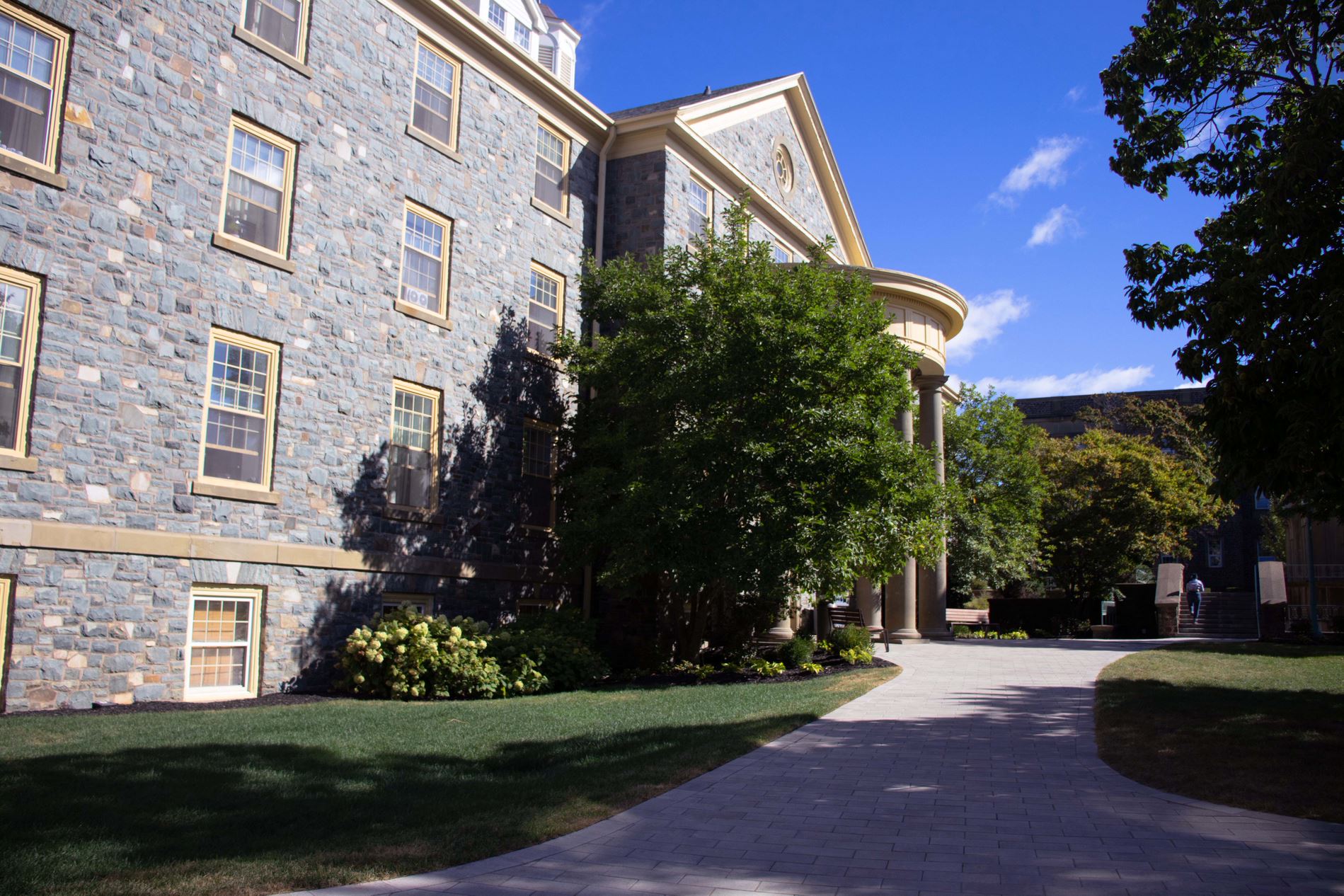 For the university, the newly renovated residence is part of its future vision to be a university welcoming to all.
In 2020, President William Lahey committed to make Alex Hall accessible. The President's Review [PDF] from that year outlined an initiative—started in 2018 and authorized by the Board of Governors—to spend reserve funds on several key areas related to equity, diversity, accessibility and inclusion (EDAI). The Alex Hall renovations support work undertaken as part of Lahey's mandate, particularly goals described in the section entitled Advancing and Enhancing the College's Educational Mandate. Within this, President Lahey commits to work toward "improvements in the accessibility of the King's campus to people living with disabilities," and "improvements in the condition of residences and their conduciveness to the College's educational mission."
This initiative, which strengthens the living and learning community that exemplifies King's, ties into another construction project: the 2020 restoration of three of five residence bays—Chapel, Middle and Radical Bay. Designed by renowned architect Andrew Cobb, the bays were built in 1929 and fit the aesthetic of neoclassical architecture popular at the time. The bays' design follows the historic model of King's College in Windsor which was based on an Oxford and Cambridge model that centres the residence rooms around a stairwell. It's a design that is highly conducive to community building, but is incompatible with the installation of accessibility components, like elevators. Restoring these historically significant buildings was made possible through a transformative gift from Chancellor Debra Deane Little and her husband Bob Little, other generous major donors and numerous additional alumni. Their loving restoration meant the bays became much more accessible, but the stairwell model meant making them fully accessible was impossible. Lahey and Ian Wagschal, director of facilities at King's, met with the director of the Accessibility Directorate and reached an agreement with public authorities; the bays would be restored on the understanding that the newest residence building on campus, Alexandra Hall, built in the 1960s, would be renovated to accessibility standards.
In 2021-2022, the King's Board of Governors approved a financing strategy developed by Bursar Bonnie Sands and the Board's Finance, Risk and Audit Committee which included borrowing from the Royal Bank and the university's own reserves. Construction on Alex Hall began shortly before King's 232nd Encaenia in May.
***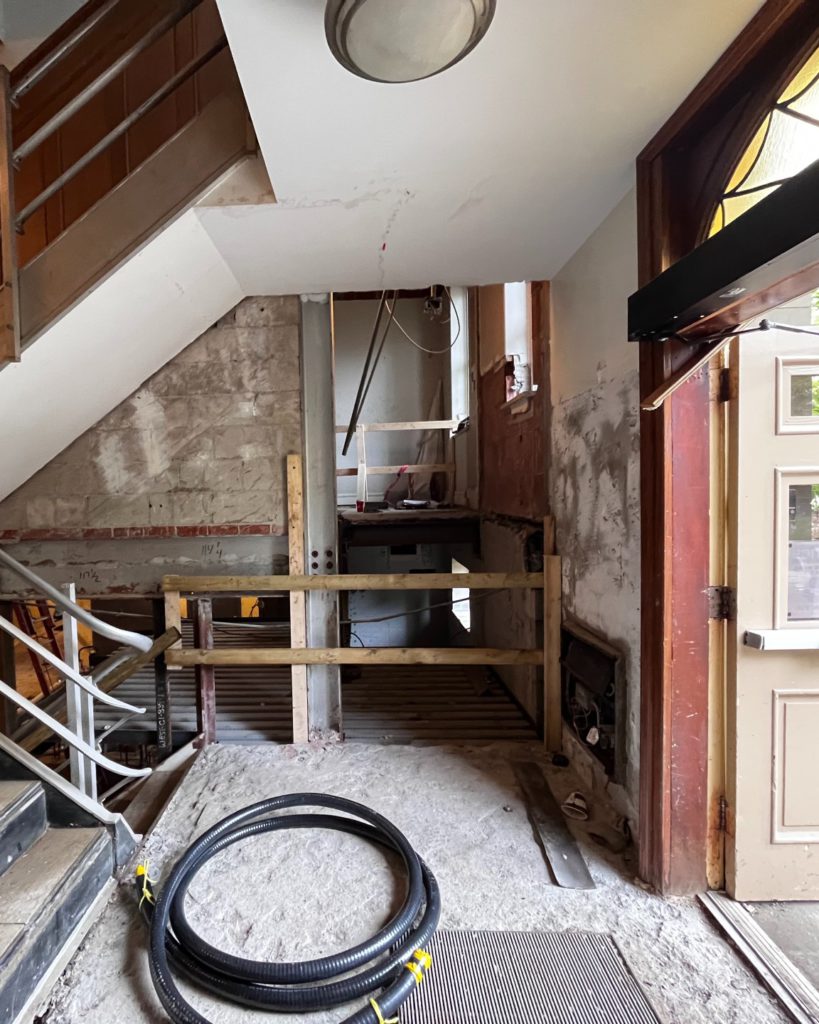 Today, Alex Hall looks nothing like it did a few short months ago. It was only mid-August when a large chain-link fence draped with tarp divided the building from the rest of campus. With work trucks parked nearby and construction workers and facilities staff buzzing about, it was hard to believe Alex Hall would be ready to house students in less than a month.
Wagschal stood before the construction on a humid, grey morning. It had just started raining. With the steady drone of machinery and tools in the background, he described the barriers students with accessibility needs faced to reach the building's old elevator, which was only accessible above the level of entry.
"If you go through that door, you're on a landing—it's a split level," he explained, gesturing to the entrance. "You would have had to go up or down [a set of stairs]. So, there's no way that you would have got anywhere in this building with a wheelchair."
The landing has now been converted into a new floor. The new, larger, to code elevator is expected to be operational by early October—its completion was only delayed by electronic supply shortages. A person can now go from the basement to the third floor without encountering stairs.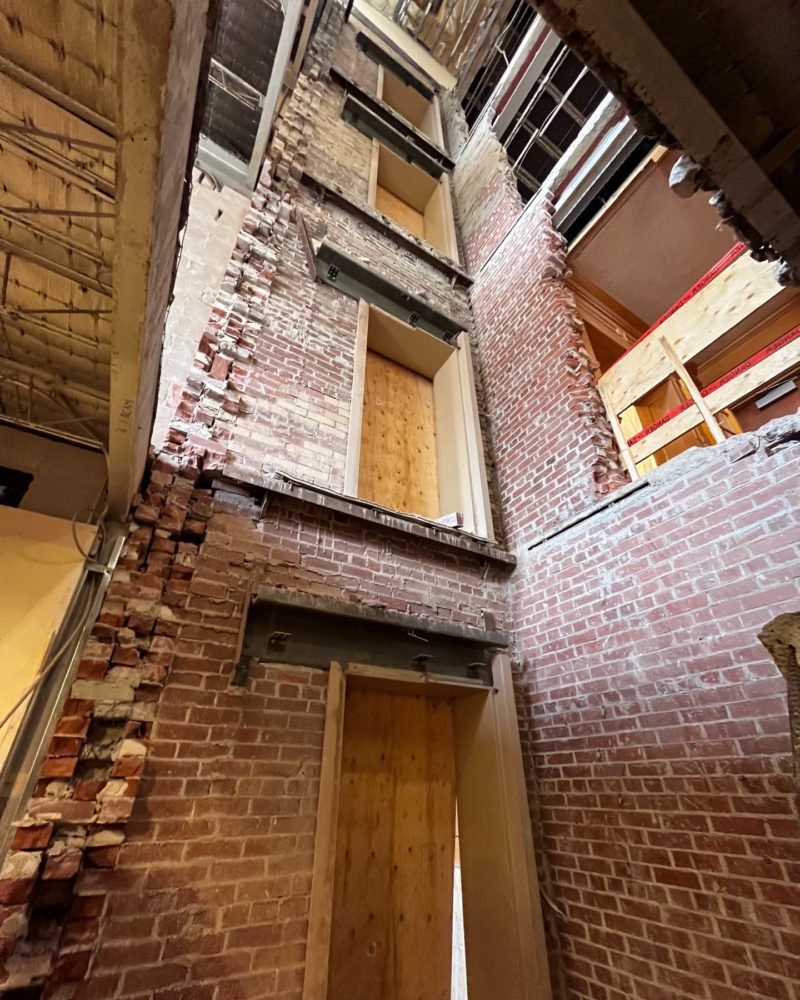 The basement was another point of focus—it now offers all-new accessible washrooms and five accessible bedrooms. In the future, Wagschal said, they would like to make the first floor accessible too.
"If we had it our way, we would have also done the first floor this year. It was the contractors who told us we would not get that done on time. And they were right. So we will tackle the first floor another day."
***
Throughout the summer, Dean of Students Katie Merwin, who helped bring much of the big-picture guidance in the residence planning, worked with Wagschal and their respective teams to ride through gargantuan disruptions, roll with many interruptions and stay flexible through significant change. Come September, their enthusiasm for this massive project transferred to an energetic and celebratory Move-in Day.
Now, for the first time, first-year students and others at King's will enjoy the benefits of a more accessible campus. Lahey says those benefits will be felt throughout the community.
"It is long overdue that King's should have accessible residence space. The transformation of Alex Hall into a residence that any student can call home is an enhancement to our community that exceeds the sum of its parts. It is another big step in putting into action commitments we have made to reduce barriers—be they physical, cultural or socioeconomic—faced by some students who wish to come to King's. And each time we reduce a barrier, our community grows in strength, vibrancy and inclusiveness."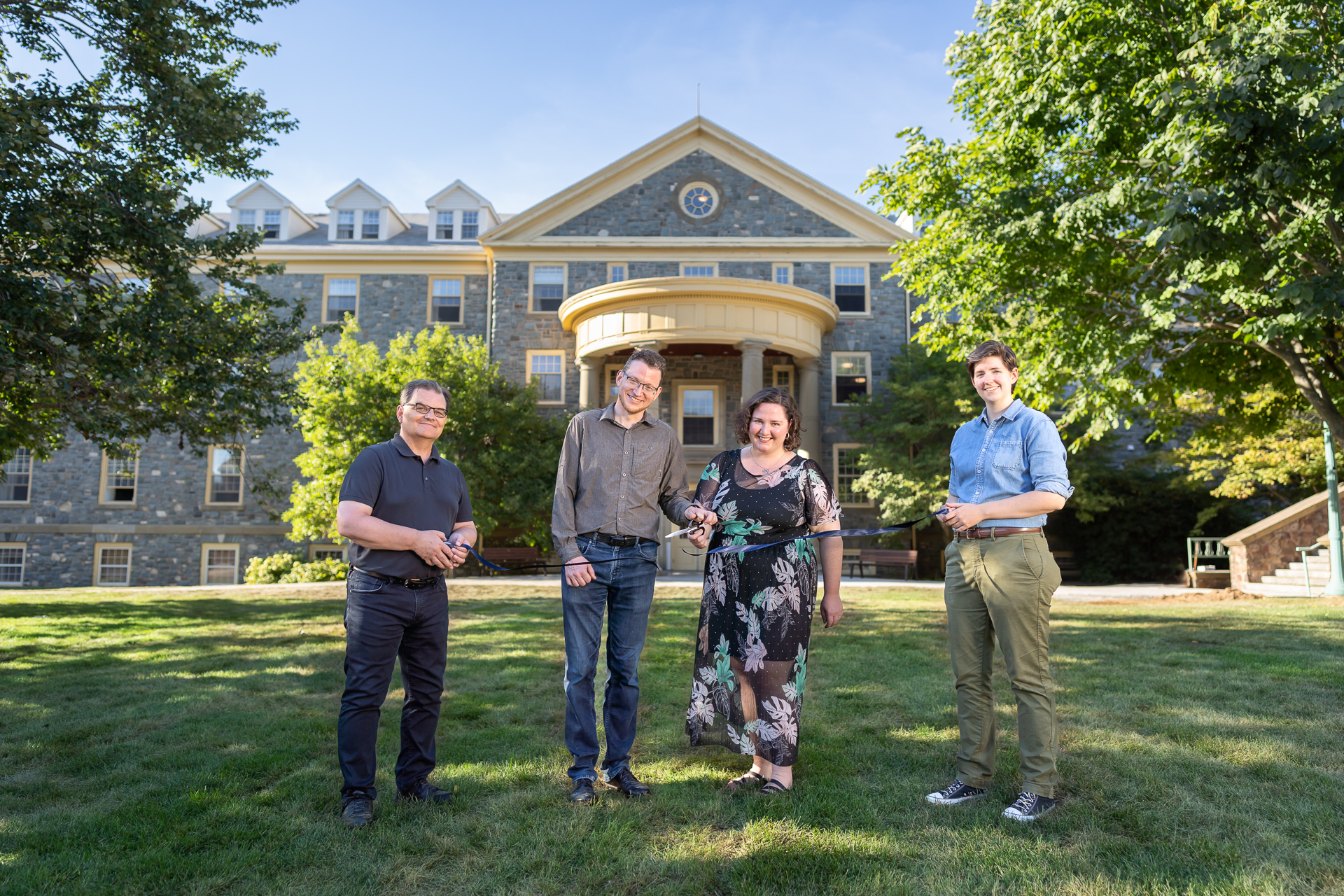 L-R: President William Lahey, Director of Facilities Management Ian Wagschal, Dean of Students Katie Merwin, Assistant Dean, Residence Life Ashley Nixon