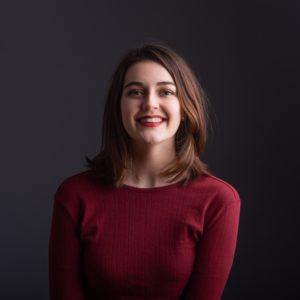 "I really loved how practical and hands-on it was," said Victoria Welland about the one-year Bachelor of Journalism program she is graduating from in May. For her, the value of the program was that it involved practicing journalism. She appreciated the opportunities she had to interview her subjects, learn how to write different kinds of news stories, how to do audio and video reporting, and learning new technology. Welland enjoyed her time in the program particularly because "it wasn't writing papers, writing essays. It was doing journalism." 
Welland came to King's in the thick of the pandemic with a Bachelor of Humanities degree. She was interested in doing some professional development but with the pandemic she did not want to commit to a master's program. Welland has always been a curious person who asks a lot of questions. She was looking to work in a field where she could do different things every day and have an impact in the world. "The one-year program at King's really appealed to me. I was like, 'I could do this one-year program and then get all this practical training in one year and be able to start working,'" she said. That is how Welland found herself at King's in the 2021-2022 academic year.  
 It is easy to form close friendships in the program as the classes are smaller with only a few students in each. "I learned so much in such a short period of time and I made some really great friends because it is a small program" Welland explains. She adds that because most of the instructors spent their careers as journalists, they have plenty of experience to draw from in their teaching and offer practical advice to their students. The instructors "became really great connections to have when looking for work." 
There were many memorable experiences in the program but two moments stand out in Welland's mind. The first time she pitched a story to an outlet and they bought it, she thought to herself, "oh gosh, I can actually do this and make money from it." That moment gave her reassurance that she could be a successful journalist. Every journalism student does a longer project towards the end of the program. Welland's second highlight was working on an audio documentary on the Unama'ki Institute of Natural Resources in Cape Breton who are working on an Indigenous Protected and Conserved Area (IPCA). "I got to experience coming up with the idea, pitching the story, I got to travel to Cape Breton. It was really cool to get the experience of somebody opening up their life to you and being willing to share something that they've spent their whole life working on," she said.  
 "I really enjoyed myself and I felt really lucky to be able to do that."  
Welland urges incoming students into the program not to give up. She says journalism "is a rejection-heavy industry" where writers are always improving their craft and their storytelling. She explains that when one person says "no" to the story it does not mean the writer or the idea isn't good. It may not be right for that specific outlet. She cautions however for students to be prepared to change the way they are used to writing because, "writing for journalism is a completely different thing." She adds that, "if you are somebody who is curious and likes to ask questions…you will find your way." 
At the time of this interview Welland was interning at CBC Nova Scotia and hoped to continue working with them after her graduation. Since then, CBC Nova Scotia has hired her as an associate producer and reporter.