Charlotte Friesen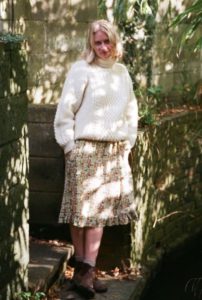 Charlotte Friesen isn't entirely sure what's next, beyond a year off from studying, but she is quite certain that cooking will be a part of her future. In May, Friesen will graduate with a Bachelor of Arts with combined honours in Early Modern Studies and Gender and Women's Studies, and a certificate in art history. She has woven her passion for cooking into both her academic and working lives. The Vancouver native chose King's after a gap year to get clear on what she really wanted to study. "I loved that King's was an old school and the Foundation Year Program appealed to me immensely," she says. 
Early Modern Studies sparked Friesen's curiosity in a unique way. "I grew up in a religious family and I'd only studied biblical figures from a certain perspective. In EMSP we study the reformation, which marked the religious shift that many works of early modern canonical thinkers, and subsequently the contemporary world, builds upon. I wanted to know all of this."  
But, back to cooking. Having grown up in a family that appreciated good food and great restaurants, it's perhaps not surprising that Friesen's gastronomical sensibilities and culinary interests found their way into her EMSP studies; she did her thesis on early modern cookery and the manuscripts and cookbooks of the day. "I wrote about a phenomenon of the 15th and 16th centuries where, for the first time, male chefs were coming into professional kitchens and writing cookbooks. To that point, the cooking monopoly had been women in domestic kitchens." Friesen wove the philosophies of the day into her work, exploring the influence that David Hume's Of The Standard of Taste and other philosophical musings had on the kitchens of the time. "In my thesis I explored a few recipes that I found. I love that a recipe could have been written 300 years ago and that you can create it today." She notes that there's not a lot of scholarship in the field and very little by people who have been cooks. 
Friesen knows her King's experience will resonate with her over time.  "I'm grateful to have gone to a school where you know your professors and they know you, and you can visit them in their offices and reach out to them at any time. That's been a huge privilege." And then, of course, there's food. She took a year off during her degree to apprentice as a sourdough bread baker in Vancouver and here in Halifax she worked at a well-regarded sourdough bakery. And while the coming year will see her working in marketing and as an assistant to an artist's agent, cooking won't be far away. "I know I'll end up doing something in food, perhaps marketing a product. In the meantime, food is how I connect to family and friends. I love to cook for them." 
Lucy Carolan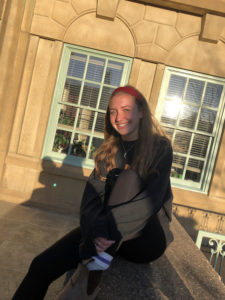 One way or another, art has always colored Lucy Carolan's life.  Graduating with a Bachelor of Arts with combined honours in Early Modern Studies and history, Carolan came to King's from a Toronto arts high school where she studied painting and drawing, learned to play the flute and took drama classes. It was both her creative sensibilities and her athletic prowess that drew her to King's; she found a place in the Foundation Year Program, and on the King's Blue Devils Soccer Team, where she's been a captain.  
"I was really drawn to King's," Carolan says. "At my high school I had learned that I could be myself and not conform to what people want me to be. I saw that at King's everyone was their own person, no one judged anyone and it was a safe environment in which to go to school. It felt familiar, it felt like home." 
Her foundation year was a challenge, but a good one. "I wasn't necessarily prepared for FYP," she says. "The program really whips you into shape. I learned how to write…We learn how to tell a story." Carolan carries that message to potential King's students at soccer team recruitment sessions. "I tell them it's a hard program, that it will kick your butt. But it's the best thing I've ever done." 
It was Renaissance art that drew her to Early Modern Studies. "I think Jeanette Vusich, who taught art history during my foundation year, was my aha moment," she muses. "Studying art is natural to me. I was fortunate to have travelled a lot with my family and go to great art galleries around the world. Although I have to say that as a kid I appreciated the gift shops more than the art." 
Art will be Carolan's next educational step and, undoubtedly, her career direction. Next year will find her at the Warburg Institute, a part of the School of Advanced Study, University of London, where she'll study Art History, Curatorship and Renaissance Culture. "I'm following the art," she explains. "The great Renaissance art is at the National Gallery, the Louvre and other great European institutions." 
While art has shaped her, it wasn't always the plan, Carolan explains. "I had always wanted to be a lawyer. But Covid changed that. I found myself not wanting to read the kind of heavy stuff that doesn't excite me. Working in a gallery, in curation, had always been on the backburner. During all that time studying remotely it began to come to the forefront."