Sam Sharp
---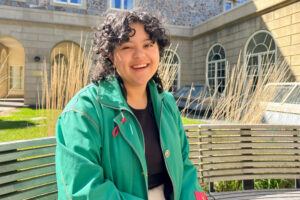 For Sam Sharp, Foundation Year Program wasn't the draw that it is for many first year King's students. It was appealing, but Sharp was very clear she was coming to university to study political science. And what sold her on King's, especially after visiting some major universities where, she noted, "no one smiled," was when a King's student told her about the rich, unique qualities of King's community life. "After that conversation, King's was the obvious choice for me," Sharp says.
Getting involved in the community was natural for Sharp; she'd been active in student government in high school in her native Ottawa, and the King's Students' Union (KSU), where she became first-year representative, was an obvious fit. It served her larger picture as well. "Politics is at the centre of issues I care about and I wanted to explore the diversity of what political science can be."
While her second year was overshadowed by the pandemic and remote study, in her third year she was a KSU representative and Communications Vice President, and in her fourth she was student representative on the Board of Governors. In addition to these, Sharp was an Orientation Week leader each year and, on a different note, a committed member of the Dance Collective.
Now, at the end of her fourth year and about to graduate with a BA (Hons) in Political Science and Early Modern Studies, Sharp is lining up her next step, all the while looking closely at the last four years as she prepares her valedictory address. The future, not surprisingly, is focused on policy and creating change. "I'm strongly drawn to immigration policy," she says. "I wrote my thesis on U.S. / Mexico migration and human rights violations, the ways that policy can create violence for particular groups. So it's immigration policy, and human rights and understanding how to create the most ethical policies we can." She'll go to graduate school in the near future; she's considering International Security at Sciences Po in Paris, or International Migration and Public Policy at the London School of Economics. "And studying Refugee and Forced Migration Studies at Oxford is a bit of a pipe dream," she adds. She's also considering law school. "I'd love to do something where I can be involved in policies that create change but where I have my feet on the ground and a lot of contact with individuals. I need a personal connection." Most immediately she'll do a little travelling followed by French classes in Brussels to bring, as she puts it, her French back up to par.
In conversation, Sharp exhibits a deep caring for the people with whom she has spent these last four years. "After the pandemic I really wanted to be a part of helping people find some happiness," she says. "I think at the core of it I just really love getting to know people. I'm good at making people feel welcome and feel like they can be a part of the community."
Each of the students nominated to be valedictorian made short videos for their classmates to reference before voting. Sharp's was simple, understated, honest, warm. "I think it would be a total honor to be able to speak on behalf of this class," she said candidly in the video. "I have a lot of love for the people I've met here, I have a lot of love for the things that I've learned."
When we spoke, Sharp was halfway through writing her address, her brainstorming pages overflowing. "I want to deliver a message of overwhelming gratitude for the ways that people have engaged with each other and been present for each other through really difficult times. That's a huge part of it. I'm trying to focus on the ways people showed up for their community and their families and were just able to survive it all. I want to inspire my class to take a look around and be really proud of what they've done and what they've been able to accomplish."
Faculty, too, will get a deeply appreciative nod. "They've been so inspiring," Sharp says. "I felt so lucky to work closely with faculty and have my university experience made entirely better by the way faculty cared about what I had to say and the things I wanted to write. Just thanking the people who have been there and have been wonderful these last four years."