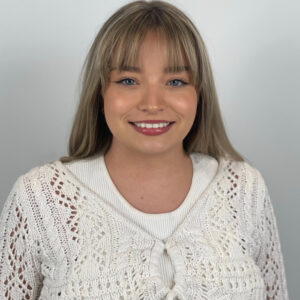 When 2022 Colin Starnes Award recipient Petra Jessome arrived at King's, she hit the ground running. "[The award] has given me the amazing opportunity to do FYP and also further pushed and incentivized me," Jessome says.
The award covers the value of tuition and mandatory fees for an incoming Foundation Year Program (FYP) student who has demonstrated financial need and who would make a unique contribution to life at King's.
"It means a lot to me that King's is supporting Nova Scotian students in this way," she adds.
In addition to a busy FYP course load, Jessome has immersed herself in campus life. She helped coordinate screenings with the King's Film Society and served as first-year representative for the King's Dance Collective. She attended Night FYP lectures as well as some of the events celebrating FYP's fiftieth anniversary, such as the Great Debate and FYP Trivia Night. Not to mention time spent in the Wardy with friends.
"What really puts the icing on the cake is going to these extra events that are available to you," she says. "Making memories with your friends is really what first year is about."
Jessome also balanced a temporary job on campus, supporting the annual Phonathon in the Advancement Office. Over the course of three weeks, she and a team of students reached out to alumni about making donations to the Annual Giving Fund. She enjoyed the opportunity it gave her to have conversations with alumni about their time at King's.
"It's awesome to see how much [King's has] changed, but also so much of what stayed the same. Some of the things that [alumni] were talking to me about—things that they enjoyed when they were a student—are still around today, like Formal Meal, Matriculation, all these different types of things. I could identify with people from different generations, which was really cool."
Jessome plans on carrying the drive and work ethic she's cultivated throughout FYP into her studies next year—right now, she plans on pursuing a double major in Law, Justice & Society and Contemporary Studies.
"I was really interested in Section Six of FYP, the contemporary world, and I'd like to continue exploring that."
In the meantime, she's finishing up her final FYP exams and preparing for her summer job, where she'll be working as a constituency assistant for a local MLA back in her hometown of Sydney, Cape Breton. She hopes to go into law, government or policymaking of some kind. Jessome is as friendly as she is passionate and articulate: it's clear that she will continue to make a positive impact in the community during her time at university.
"I love King's, truly. It sounds cliché, but there really is that sense of community here," she says. "And it's really nice to be in a space where most people are in the same program, you know. You can go to the dining hall and have a conversation about how you enjoyed lecture that day. Everyone is sort of involved with one another, has compatible interests and wants to learn and wants to talk about these things, which is a unique space."