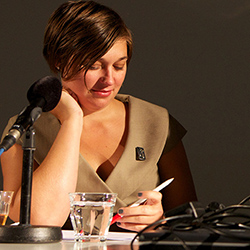 New media theorist and scholar Dr. Sarah Cook is in Halifax to promote the release of her latest book Information, from MIT Press. She will give lectures at King's on October 17 and at the Art Gallery of Nova Scotia on October 19.
At King's, Dr. Cook will deliver a lecture entitled "Hippo Attacked – Contemporary art's intersection with science and technology". The title of the lecture was randomly selected from an 'automated beacon' created by artists Thomson & Craighead that generates live web searches. The lecture will be held in the KTS Lecture Hall at 12:30pm.
Her lecture at the Art Gallery directly addresses her new book. Information is an anthology of information-based art that "provides the first art-historical reassessment of information-based art in relation to data structures and exhibition curation". This lecture is at 6:00pm in the Windsor Theatre at the Art Gallery.
Dr. Cook is a Dundee Fellow at the Duncan Jordanstone College of Art & Design at the University of Dundee. She was part of the first graduating class in Contemporary Studies at King's.