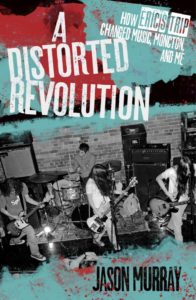 Jason Murray (MFA 2016) had already written one novel and a book of poetry through another college writing program, but he was keen to explore nonfiction — and to get published.
"With my journalism background, interest in nonfiction and ideas to write a book," he says now, "I think the King's MFA program sort of found me."
His MFA book project — part memoir, part narrative history of the rise of Moncton's seminal early-1990s band, Eric's Trip — quickly found a publisher. This spring, just a year after he graduated, in fact, Halifax-based Nimbus Publishing released Murray's A Distorted Revolution: How Eric's Trip Changed Music, Moncton and Me.
"I was struggling a bit to shape the story, find direction and make sense of it all in the middle of my first year," Murray remembers, so he did as Silcott suggested. "And it went on a bit of a tangent in some ways, but led me to a place that ended up helping me redefine the book as a whole … Jane gave me the freedom and advice to discover that."
Nimbus Senior Editor Whitney Moran first saw Murray's one-paragraph book pitch as part of a compilation of student projects the program shared with publishers. She asked to see more. "I sent her a 20-page full proposal, including chapter outlines, marketing plan and full book idea, as well as two chapters. She called me right away, told me she loved my writing and wanted me to come to Halifax and sign a contract. They wanted to publish my book!"
Murray says his first few months as a published author have been a whirlwind. "I sometimes forget how far Eric's Trip went, especially with the Internet. I've gotten emails and messages from all around the world, people asking how they can get a copy of the book." But the story resonates beyond one band and one city, he says. "Every city and town has 'that band' that helped change their scene and their area …. Music does that and it's great. Eric's Trip was sort of the metaphor for the story we all share."
Murray's next book project will also focus on Moncton, but on a very different theme: the shocking June 2014 murder of three RCMP officers in the city. "There are many, many layers to it and a lot of tough questions to be asked," he says.