Since 2019, King's has celebrated the combination of athletic excellence and academic leadership in students with the Debra Deane Little and Robert Little Academic Scholarships for Varsity Athletes. Valued at $5,000 per year and renewable for up to four years, the scholarships are for students who are enrolled in or have completed the Foundation Year Program (FYP), who achieved a high school average at or above 80% and who will be participating in varsity athletics.   
For the 2022/23 academic year, there are 42 Deane Little Scholars, including ten first-year students. We spoke with three first-year recipients to find out what brought them to King's. 
Frances Cooke
she/her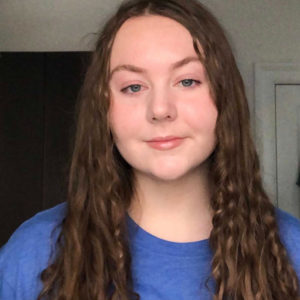 You might assume that Frances Cooke, most valuable player on her high school volleyball team and who also played for a club that finished second in Canada, had athletics top of mind as she approached her university years. But Cooke came to King's with only the Foundation Year Program (FYP) in her sights.
"I fell out of love with the sport during Covid and I was recovering from an injury," she explains. "I had no intention of focusing on athletics when I came."
But the closer she got, and with some communication with King's coaches, she reconsidered.
A recipient of the Debra Deane Little and Robert Little Academic Scholarship for Varsity Athletes, Cooke, now a left-side hitter on the King's Blue Devils volleyball team, is one of a small handful of FYP students who play on King's varsity teams. Her passion for the game has returned.  
"I came to visit King's and as soon as I stepped on the campus, I knew," Cooke recalls.  "I loved the size and the feel of it and FYP sounded perfect – it's reading and writing and I'm passionate about both." Cooke made the right choice; she loves FYP. "The way it's structured, the papers and the degree of choice, my tutorial group and the tutors…you're surrounded by people who really think about the work." Law school is a future consideration, Cooke says. "And I'm geared towards politics—both my parents have been municipal politicians." 
Social justice will be a future focus; Cooke has a strong interest in gender equality, housing issues and systemic inequalities. Viewing King's through that lens, she says, "There's a lot of room for individuality and there's a lot of caring from professors and the President makes a point of talking to people in the dining hall, for example. I have really supportive teammates, and everyone around you is supportive if you need them. It's truly a non-judgmental space." 
Norah DeWolfe
she/her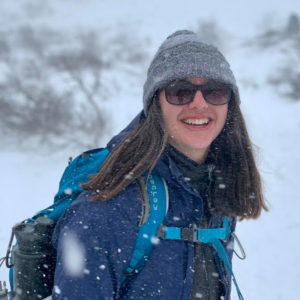 Norah DeWolfe isn't new to achievement, but she's particularly proud of receiving the Debra Deane Little and Robert Little Academic Scholarship for Varsity Athletes.
"It's really great that there's a scholarship for student athletes—people who have done well academically and in sports. Because ultimately, we're here to study and sports is an added bonus. The scholarship acknowledges both of those." 
DeWolfe, an Ottawa native, had her eye on King's; her father is from Nova Scotia and her mother had been a King's student and stage manager for the King's Theatrical Society.
"My mother told me about the Foundation Year Program. She said I'd actually get to talk to people and discuss things," she laughs. DeWolfe is enjoying being exposed to different points of view. "I like all the different perspectives. I'm learning so many new things every day." 
With the rigors of FYP and the time demands of playing a varsity sport, DeWolfe, who is an attacking midfield and striker on the Blue Devils Soccer team, is asked how she manages it all. "I'm also on the badminton team and in the trail running club and I have two part-time jobs," she laughs. "It sounds like a lot but it's a good balance for me. I see friends when I'm doing these things." 
Her first season with the Blue Devils now behind her, DeWolfe is excited for the next. Her King's coaches moved her from a defense to an attack position and she loves it. "This is more exciting," she says. "And this is the best team King's has had in a while. A lot of rookies came in this year and there's so much potential. It's looking so good going forward."
As for the longer term, DeWolfe is letting things evolve. She's sure she'll go to grad school and she knows she wants a career that will allow her to help others and see the world. "Something I love about soccer," she adds, "is the way it unites people around the world." 
Sam Hodd
he/him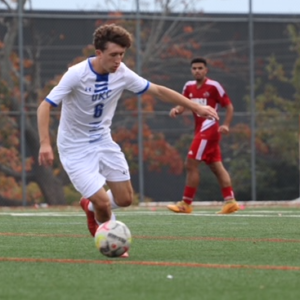 As King's men's soccer's first recruit of the 2022-23 season, midfielder Sam Hodd, raised in Moncton, N.B., brought impressive credentials, including three consecutive Atlantic Championships with Team New Brunswick. He could have ridden on that pretty far. But like a number of King's athletes, Hodd is also a scholar, hence his being awarded the Debra Deane Little and Robert Little Academic Scholarship for Varsity Athletes.
Things fell into place for Hodd quickly. "I wanted to study journalism and I'd applied to a few universities," he says. "Jamie McGinnis, the Blue Devils' coach, reached out and I came down to train with some of the players. I had a really positive experience and then there was no question." The campus, King's smaller size and a city he has always wanted to experience played a part in his decision as well. 
The Foundation Year Program intrigued him. "I love history and literature and I thought it would be fun to read classic texts. But it's intense, leaping from text to text quickly with a lot of information to absorb and analyze, balancing the reading and the essays," he says.
But Hodd is rising to it and is inspired by it. "I've never looked at things through these kinds of lenses before." He's also getting his feet wet as a journalism student, interviewing subjects for assignments and on-air commentating for King's broadcasting of Blue Devil's games. "I do camera for some of the games as well," he explains. "I had to get up to speed on some other sports pretty quickly." 
King's, Hodd says, is exactly what he'd hoped it would be. "It's a really positive environment. The coaches are great. We have a really great sense of team, everyone values and respects their teammates and we all get along. That played a huge part in our success on the field this year." His enthusiasm reaches beyond the team. "I've met so many amazing people and we all support each other," he says. "I've made a lot of friends here." 
Congratulations to all 2022 Deane Little Scholars! 
2022 Debra Deane Little and Robert Little Academic Scholarships for Varsity Athletes
First-year students 
Amber Beswitherick
Frances Cooke
Norah DeWolfe
Samuel Hodd
Ethan Hunt
Callie Jurmain
Liam McCara
Ainslie Nicholl-Penman
Amy Randell
Lauren Read
Mia Till 
Second-year students 
Chloe Beamish
Liam Bendsza
Ethan Brownsey
Eva Carmichael
Maria Collins
Claire Davis
Lucas Livingston
Tia Lovegrove
Noah Macneil
Elena Neufeld
Claire Pontefract

Third-year students 
Aidan Badcock-Parks
Katharine Cheslock
Leigha Eisan
Naomi Puddicombe
Grace Rix
Mali Triger
Fourth-year students 
Dylan Aleck
Kaleigh Coco-Edman
Katherine Cook
Rebecca Dupuis
Luke Dyment
Kayleigh Garland
Sophia Harriman
Leah Hartlen
Marah James
Rylan Logan 
Owen Porter 
Fifth-year students 
Alison Clarke
Ethan Merlin
Jack Wuotila