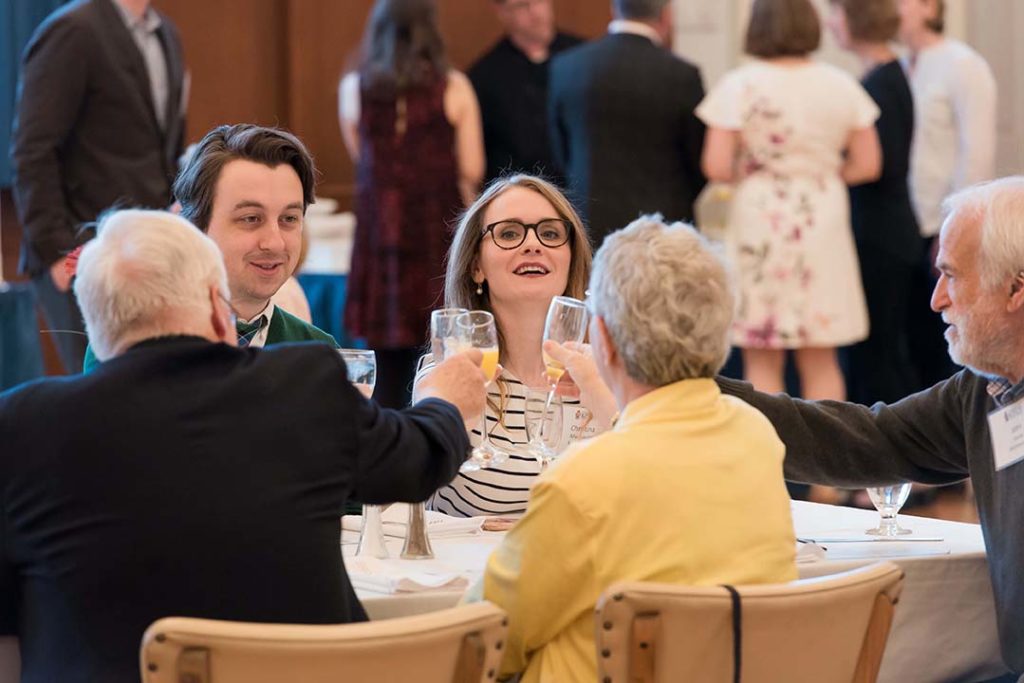 The first annual King's Alumni Day happened on May 25 at King's. Following the Alumni Association's Annual General Meeting, alumni and guests gathered in Prince Hall to share a delicious brunch and celebrate alumni achievement. There, Robyn Tingley, BJ'97, was awarded the Judge J. Elliott Hudson Distinguished Alumni Award. She described the experience as such:
"Today [my partner] Brent and I met some extraordinary human beings at the King's annual alumni brunch. King's was my home in 1997 where I studied journalism and learned from some of the best in the industry…how to report the facts, protect the truth, uphold ethics and journalistic freedoms. It was a transformative year that started with learning the basics of a newsroom, took me to New York city for an internship at ELLE, and ended with a job offer from NBTel. Somewhere in between I found time to open the Coburg coffee shop at 5 a.m. and pour lattes before class, and answer the Street Cents viewer line at night. 'Hello….CBC Halifax…what's your beef?'
We had the pleasure of sitting with President Bill Lahey and this year's valedictorian Meagan Campbell, BJ(Hons)'19, from P.E.I. who starts work at the National Post on Monday after having completed very successful internships at both Maclean's and the Globe and Mail. A girl to watch! We also sat with 92 years young Roselle Green, DipJ'65, DCL'15, a widely respected leader who has taken a university course every year since 1947! Ryan Hreljac, BA'14, was honoured with the Meraki Kudos young Alumni Achievement Award for his work bringing clean water to almost a million people. Congratulations as well to Lindsay Cameron Wilson, BA'95, BJ'99, and Stephanie McGrath, BJ(Hons)'99, who were 'knighted' into the Order of the Ancient Commoner for being such strong friends of King's.
I am grateful they also recognized the work we are doing at Glass Sky supporting women and gender equality. It was truly humbling to be among these leaders who are working to make the world a better place I'm feeling blessed and motivated to keep pushing forward."
Following the brunch, alumni could attend a campus tour, a mini Foundation Year Program lecture, or the 50-year reunion tea. At 4 p.m. there was an event in the Wardroom to celebrate the donors who generously funded its renovation, and that evening the party continued in the Wardroom."
Thank you to all who came home to King's to celebrate with us on May 25. We hope to see you all next year for the second annual King's Alumni Day.