FYP Letters is a series of non-curricular notes to keep us in touch over the next days and weeks. They are a combination of original writings and archival ones, including some re-printed FYP News items. — Dr. Susan Dodd, Interim FYP Director.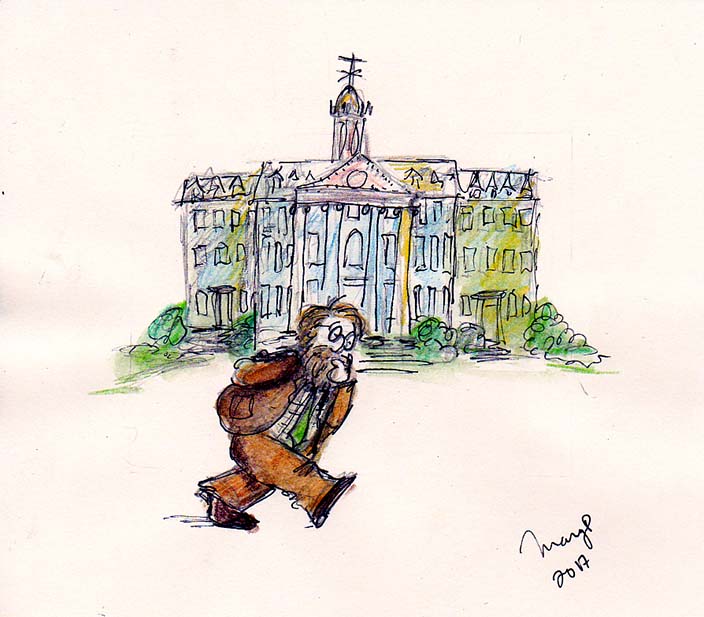 Here are two lovely items by Dr Angus Johnston: A reflection on the early modern self in an audio lecture on Shakespeare's Tempest, and Angus' beautifully illustrated and wonderfully cryptic notes from his final lecture [PDF] in the Foundation Year Program.
Angus was our great teacher, mentor and friend. It's his portrait you see in Lisa Gregory's FYP office. There, he is hiding a ball that his beloved dog seeks to grasp directly from Angus' hand. But Angus is poised to redirect that yearning for easy satisfaction. He will let that ball fly, and that dog will turn and chase, out across a rugged terrain before he comes back to drop it at Angus' feet, only to have it gathered and thrown back out again. This is a beautiful image of academic life with Angus: he had us always turning out in seeking and returning in affirmation, only to be dispatched once more in a joyful intellectual quest for knowledge of our selves, our history, and our own times.
The audio recording is: "Shakespeare's Tempest, a sea change to the modern soul". Angus recorded his brilliant reflection on the emergence of the modern soul in support of the Halifax Humanities.
Many of us in FYP are devoted to the Halifax Humanities—a barrier free humanities education program taught in the North Branch Memorial Public Library on Gottingen Street. It is Directed by Dr Dawn Brandes, and many of us volunteer in the class and sit on the board. (Neil Robertson Chair, Eli Diamond Secretary, Susan Dodd vice-chair, and teachers Daniel Brandes, Simon Kow, Sarah Clift, Laura Penny, Gordon McOuat and more).
Halifax Humanity 101 is a program that enriches us and our city by cultivating a community of readers where before there was separation, isolation and loneliness. In the years leading to his sudden passing in 2017 on the eve of FYP's conclusion for that year, Angus was Secretary and the beloved coordinator of the now-named "Angus Johnston Seminar"—a program for HH 101 grads hosted at the Alderney Library in Dartmouth. Angus worked tirelessly to get tickets to performances of all types for our Halifax Humanities participant so that to go to take in a live-stream opera or a Neptune play meant going in the company of some people who had been excluded from those kinds of public pleasures for decades if not for their whole lives.
Here is Angus' complex and delightful performance of his interpretation of Shakespeare's challenging play:
In these two works—we see the maddeningly a-narrative fragments and artworks of Angus' illustrated "Hands" lecture, and the pure delight of Angus' way of bringing Shakespeare's characters to life as active principles of the "brave new world" that emerged as "the modern" in and through the bard's "banquet of spirits".
Enjoy, and as you are each dispatched in your particular seeking… know well that we look forward to your return.
---
Ed. note about the above image of Angus pacing the Quad on a FYP paper morning: When we did FYP, we pictured our tutor Angus Johnston pacing the Quad to the tune of Bruce Coburn's "Wonderin' Where the Lions Are" waiting for our papers. Here's our version of Coburn's song, and (above) an image of the way Mary Campbell—now of the online news source capebretonspectator.com—pictured it.
We pictured Angus pacing and humming:
Wonderin' Where the Papers Are?
(to the tune of Bruce Coburn's "Wonderin' Where the Lions Are")
Sun's up, uuh huh, looks okay
FYP survives into another day
And I'm thinking about eternity
Some kind of ecstasy got a hold on me
I had another dream about lions at the door
They weren't half as frightening as they were before
But I'm thinking about eternity
Some kind of ecstasy got a hold on me…
And I'm wondering where the papers are
Wondering where the papers are
Yes, I'm wondering where the papers are…