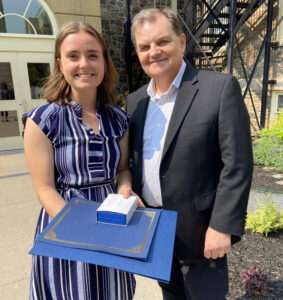 Anna Mandin is one of two recipients of the 2023 Governor General's Silver Medal, a prestigious award presented to a student demonstrating exceptional academic achievement in a Canadian educational institution.
At the University of King's College, the Governor General's Silver Medal is awarded to a journalism student graduating with first-class Honours in the Bachelor of Journalism (Honours) degree program.
"I was kind of in shock. I just didn't really expect it," Mandin says.
Originally from Calgary, Alta., she moved to Halifax to pursue a Bachelor of Journalism (Honours) degree at King's. She achieved near perfect GPA during her time at King's, and demonstrated tenacity and tremendous character as a journalist. Mandin explains that in her final year, her focus was more on developing her skills to be a good journalist and less on her grades.
"So, [receiving the Governor General's Silver Medal] really was just a pleasant surprise."
Mandin knew from a tender age that she wanted to go into journalism. "I've been writing poetry since I was eleven, so I knew I wanted to do something writing-related." As she put together a list of universities that offer journalism, she stumbled upon the University of King's College and joked to her mother about maybe going there. Her mother laughed and retorted that the program seemed interesting, but the university is too far from home.
As Mandin continued to learn more about King's, she was drawn to it. When she was in grade 12, she and her mother attended an event where faculty and staff members from King's gave sample lectures at the University of Calgary. After the lecture Mandin's mom said to her, "Darn it, Anna! You have to go there."
Mandin says her first year at King's was exciting, but she also felt overwhelmed by the number of books she had to read. When she received a C on her first essay, she knew she would have to work hard. Her efforts paid off, and she ended the year with an A+. Of her experience at King's she says, "I learned, and I grew a lot as a writer and as a reader."
She fondly remembers a particular instructor who called her at 9 p.m. when Mandin was distraught over being unable to complete an assignment due the following day. They talked about the project for an hour. "Who does that? That's incredible!" she remarks.
Mandin worked on several significant stories, including a Ukrainian family's arrival to Halifax, a house fire and a student's struggle with mental illness at another university and the way the institution mishandled the situation. In each instance, she was able to capture the weight of those moments and tell compelling stories. "I think I've really grown to see it more as a civic responsibility a lot more than I did before."
Her degree culminated in a month-long internship at CBC where she is now employed for the summer.
Through her assignments, lectures and projects, Mandin has come to see the value of journalism in society. "Since coming to King's and learning a lot more about what journalism is, it's like wow, we really need it and there really are people that can be benefitted and served by our work." She understands how good journalism influences the experiences of people and sometimes even changes laws. She explains that she now sees "how important [journalism] is to democracy."
Upon asking Mandin how she feels about finally graduating, she says, "I feel kind of sad. I loved university. It's so much fun." Mandin will miss learning new things; it's something she's always enjoyed.
To new students joining the journalism program at King's, Mandin advises, "I spent a lot of time in my degree worrying about whether I was naturally actually good enough. I learned that if you really want to do it, if you're willing to put the time in, don't worry so much about whether you're good at the very beginning. It's okay to not naturally be perfect or even naturally good because coming to university is where you're meant to learn."