When Mark Pineo and Paul Robinson learned they would be recording lectures for the 2020/21 academic year, they knew they had to figure out a way to do it quickly and make the recordings look good. So they looked to a couple of unlikely sources for inspiration.
Pineo, who teaches journalism and is also known as the King's go-to AV guy, said the only way to get the project done was to think like people who are used to creating lots of content with little turnaround time: YouTubers and Twitch streamers. (Twitch is a platform used by people to livestream their activities—often playing video games.)
"There are so many examples of people producing large amounts of content in a short amount of time, and we knew we could look at their tools and workflows," Pineo said.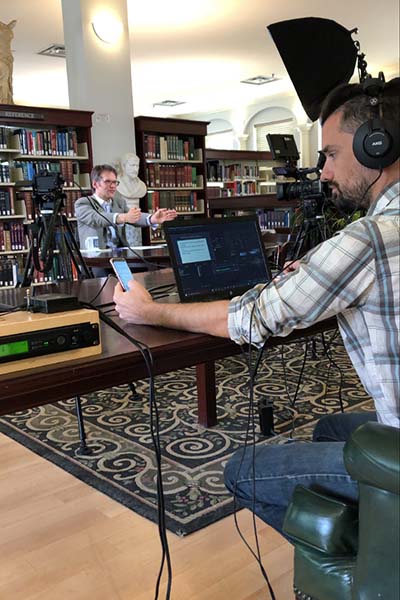 Pineo estimates he and Robinson—the video instructor in the journalism program—recorded some 150 lectures over the year, plus a few live events. And one of the key tips they took from YouTubers was to minimize editing time.
"We reassured all the faculty not to sweat the small stuff. If you skip a word, stutter or stumble, you would do that in front of a classroom! Don't ask for a retake because you slurred a word," Pineo said.
"We did the whole year essentially as if we were livestreaming them, which worked great in terms of time management," said Robinson. "We told the profs it's like you are just talking to the students. We weren't stopping and pausing lectures every five minutes, and we weren't doing multiple takes. They were just delivering their lectures to an audience of two."
The pair came up with a process to shoot lectures using two cameras and 50mm lenses. ("One of my favourite lenses," Robinson said.) They tested it with Associate Professor Eli Diamond, filming at the library, a process that allowed them to fine-tune their approach. "We had way too much equipment, and some of our recording software was not as finely tuned as it is now," Pineo said. "But Eli is great. He was a good guinea pig, fun to work with and a big music fan, so we bonded over that."
Pineo and Robinson come from different professional backgrounds, but found their skills meshed perfectly. "We have complementary skill sets, because Mark comes out of the audio world and I come out of video production," Robinson said. "Once we put our minds together on this, we each had half of the puzzle and could piece it all together."
As someone who had been through the Foundation Year Program (FYP) himself, Robinson said he was "excited" by the prospect of recording high-quality FYP lectures.
Robinson said, "It's one of the flagship programs for King's, and it became clear they didn't want the whole course self-recorded by profs at home or all done through Zoom calls. The scale and size of FYP made it a little intimidating. We were coordinating—oh gosh, it must be nearly 50 or 60 guest lecturers and professors. We knew it was going to be a big task with a lot of different moving pieces."
Robinson and Pineo said overall, faculty were remarkably good sports when it came to recording lectures.
"Some were more nervous than others, and some were not enthusiastic about doing this on video—and we understood that," Robinson said. "But it was fun when people came in nervous and left saying that was a good experience and feeling happy about it, or at least relieved."
And some professors went above and beyond. Both Pineo and Robinson separately mentioned Laura Penny in that category. She delivered a lecture on vampires in the Chapel, another outdoors with dramatically lit trees, and had one where she was set up to comment on a YouTube playlist as it rolled.
"Our work with Laura Penny is a story in itself," Pineo said. "She's a natural performer, and she really embraced the online learning. When we got together to record lectures, oh my God, it was some of the most creatively rewarding work I did in the last year."
Of course, not every lecture delivered at King's was recorded on campus, but Pineo and Robinson offered support to profs recording themselves at home too.
"We drew up a document a year ago on how to get the most out of what you have," Pineo said. "The stock camera on your laptop or your smartphone, your lighting. How to get the most out of your basic equipment without spending a cent. And then we could look at a test video and make suggestions." The three biggest mistakes? "Backlighting, which is a no-no, not minding your surroundings—like the messy closet door being open—and not putting your laptop on a stack of books. You want the camera at eye level, otherwise you are looking down on everyone and all your students are looking up your nose."
Ultimately, what drove the pair, Robinson said, was serving the students. "I hoped that when students opened up their computers and were ready to watch the next lecture, it would be something different. It would tune them in that much more, and not let this whole horrible year of 2020-2021 get monotonous."