Innovative program exposes Black youth to the world of journalism
J-School Noire is a unique program designed to give Black junior high and high school students an exclusive look at life as a journalist.
The program was created by the Canadian Association of Black Journalists (CABJ). The free, two-day workshops take place in Halifax, N.S., Ottawa, Ont., the Greater Toronto Area and one in Western Canada.
Brian Daly is the Atlantic director of the CABJ and an assistant professor in the School of Journalism at the University of King's College.
Daly has been running J-School Noire since its inception in 2020.
"The event itself was really historic," he says. "It's mentoring and exposing Black youth to journalism in the hopes that they decide to go into that industry."
This year, the Halifax workshops took place on February 5 and 6. Speakers included Portia Clark, host of CBC's Information Morning, Global News reporter Amber Fryday, City News video journalist Brandon Rowe, podcaster Erica Ifill and sportscaster Vincent Williams.
Students in 2020 experienced anchoring a newscast, reading off a teleprompter, and working in the control room. In 2021 and 2022, students tuned in virtually for tours of CBC and Global TV newsrooms, step-by-step video editing tutorials and more.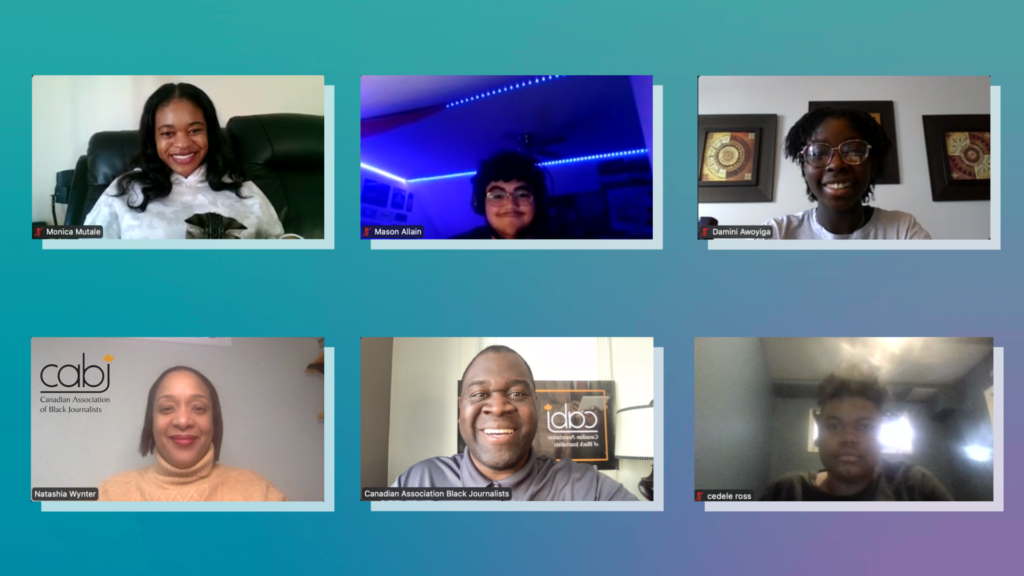 The program's impact has been tangible. For example, a student from the Digby area participated in the first Halifax workshops.
"She applied and got into King's recently," Daly says.
Other participants have also had positive experiences.
13-year-old Jaxon Cooke took part for the first time this year.
"I really enjoyed all of [the presentations]," he says. He especially liked the session on Adobe Premiere Rush with Brandon Rowe.
"We were learning how to edit videos," he says. For Cooke, this is a useful skill.
"I would like to become a YouTuber and I would like to create a game," he says.
Cooke says he doesn't always feel represented on YouTube, but he hopes to change that.
Damini Awoyiga, 14, was a returning participant. She first heard about the program from her mother.
Awoyiga already has first-hand journalism experience.
"I started a book club, and I would use that as an opportunity to interview the author, along with the other members of the book club," she says.
Awoyiga enjoyed hearing from Portia Clark and Brandon Rowe.
"I really enjoyed the part where we got to learn how to edit and how to split videos," she says. "That was cool, and that actually inspired me to want to create a video using Adobe Rush."
Awoyiga says she is starting to see herself reflected in the media.
"People are becoming more aware of how important it is to have people of African descent in places that young, Black people can see them," she says. "It gives us a sense of pride to be able to see yourself in them and to be able to believe that you can achieve what they can."
She says that representation truly matters.
"It can help elevate issues that a lot of Black people face, because each person of African descent that shares a story in the media has a different perspective."
As Daly says, "Nobody can tell Black stories better than Black people."
As plans for next year begin, Daly has a few goals in mind.
"I want to get students back in the newsroom, holding the cameras, sitting in the big chair, working the computers and the various equipment in a hands-on fashion," he says.
He also hopes to see Black students apply for scholarships.
CBC is launching a scholarship contest for students to look forward to. J-School Noire participants are also eligible for $3,000 scholarships from the CABJ and King's, plus $2,500 from Verizon.
The CABJ has scholarships for any members of the Black community with post-secondary aspirations.
"To apply, go to CABJ.news," Daly says. He also adds that J-School Noire is run by volunteers and encourages people to donate on the CABJ website.
Daly says that J-School Noire isn't just for students who have decided to pursue journalism. Skills like improved writing are transferable to fields such as law and medicine. The advanced video editing is useful for students looking to increase their social media presence.
Awoyiga agrees. "There's so much to gain from J-School Noire," she says. "Even just attending one session could really benefit you."