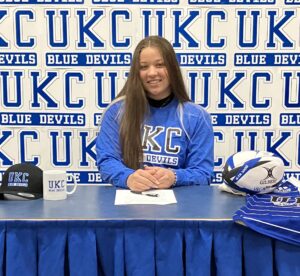 King's Women's Rugby have finalized the signing Kali Jones of Lake Echo, Nova Scotia. Utilized primarily at prop, the 173 cm (5'8) Jones was a standout athlete at Auburn Drive High School, playing not only with the girls rugby program but also with the boys football program. Recognized for exceptional seasons in the 2022-23 academic year, Jones was awarded MVP and the Eagle of the Year, as well as an inclusion on the U19 Nova Scotia Women's Provincial Rugby team.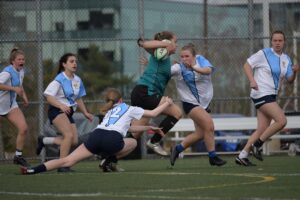 "I chose Kings, as I was offered amazing academic and athletic opportunity, along with the support from Lysa (McGrath) from the beginning" says Jones. "I'm excited to play more rugby and to study social sciences."
While representing the Blue Devils on the pitch, Jones intends to study Psychology in either the Bachelor of Science or Bachelor of Arts program.
The Women's Rugby Program open their ACAA season on September 10th at 2 p.m. in Halifax when they host the Dal AC Rams at St. Francis Field.