Rogers Chair in Journalism Lisa Taylor brings a unique skillset to her new role. Interwoven with her career in journalism—for many years she was a CBC journalist—is a career in law. She earned a JD and an LLM from Dalhousie and practiced law with a leading Halifax firm. And then there's the career as an academic: she was, for a time, a writing tutor at King's and she spent 15 years at Toronto Metropolitan University, where she was an Associate Professor, Associate Chair and Undergraduate Program Director in the School of Journalism. Last year she taught in King's journalism program as a visiting member of faculty.
As she begins her teaching duties as Rogers Chair, we spoke with her about her career, her work as part of a global research team studying journalism practice, the dramatic changes in news media today and what that means for journalism students.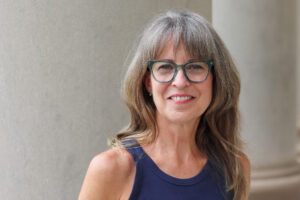 Your career has brought journalism, teaching and the law together in interesting ways. Did you have a strategy?
No, I did not have a strategy—I was led by my interests, so I'm lucky it all worked out. I did an undergraduate degree in public relations then worked as a journalist for eight years. I loved it but I felt like I hadn't quite finished my education and the idea of studying law had always intrigued me. At the CBC, I spent a lot of time covering court cases and researching criminal files and I realized the law felt intuitive to me; there's a significant overlap in the skillsets of journalism and law. When I graduated from law school, the CBC asked me to come back and create a program about the law and legal affairs; I developed and hosted two legal shows, one for CBC News and one for CBC Newsworld. I spent a few years on those projects before articling and accepting a position with the Halifax law firm Merrick Jamieson Sterns Washington & Mahody. As for teaching, even as I practiced law, I still taught as an adjunct and when I moved to Toronto with my family, I committed fully to teaching journalism as I was finishing my LLM thesis.
You are Canadian team lead on the Worlds of Journalism Study. What does the study do—and how have you introduced it to King's?
The Worlds of Journalism Study captures the views of journalists around the world. It fills a vital role in our shared understanding of journalism and the challenges journalists face. It provides statistically valid data covering issues ranging from safety, threats to editorial freedom, professional ethics and employment precarity. It's a valuable initiative because, while there's no shortage of qualitative research into journalism, the WJS delivers quantitative data—data that can help policymakers and newsroom leaders better understand the forces shaping journalism today.
Together with my King's colleague, [Assistant Professor] Terra Tailleur, we ran a WJS research lab at King's this summer, which gave five journalism students work as academic research assistants—they interviewed around 200 Canadian journalists in total. It's been a tremendous learning experience and thrilling to be a part of. After a summer of hearing what working journalists have to say about the state of the industry, I'm confident in the future of Canadian journalism.
What are the challenges today's journalism students face and how do you think they can be met?
Journalism is changing so fast. But it's about leaning into the curve and embracing change. King's journalism students are fortunate in that the curriculum offers cutting-edge instruction in vital competencies such as data journalism and disinformation/misinformation. And journalism skills are in demand not just in the newsroom—journalism grads are forging careers in a range of digital spaces including not-for-profits and in community activism. Central to journalism's mission is the work of gathering and critically assessing evidence and then communicating that evidence accessibly.
The constant rethinking of the rules of journalism is essential. Evidence matters more than ever. We've never had greater access to reliable sources of information than we have now, and we have to take advantage of it. I try to encourage intellectual curiosity and transparency about what we don't know.
I'll be teaching a class [at King's] on research and reporting methods and I'm excited about that. It's a course that helps students connect substance and evidence to their storytelling, an opportunity to learn that believing something strongly may be a compelling starting point for journalism, but that we have to marshal our facts and evidence and provide context and information. In a world rife with disinformation, journalism's mission is more relevant than ever.
Banner photo by Terje Skjerdal