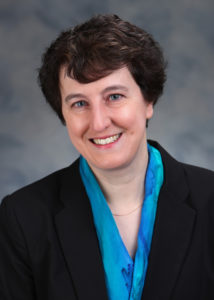 An essay on P.D. James written by Dr. Rohan Maitzen, associate professor of English, and a King's-Dalhousie Carnegie Professor has been featured on the cover of The Times Literary Supplement (TLS), one of the world's most respected literary reviews. This is the first time Dr. Maitzen's work has been featured on the cover of the TLS, and the 25th time she has been published in the weekly review.
Marking the one-hundredth anniversary of James' birth, an essay considering the famed contemporary English author's approach to crime fiction could, at first glance, appear to be a surprising choice of material—Dr. Maitzen's academic work centers on Victorian literature. While the connections might not be obvious, a discussion with Dr. Maitzen makes the geneology clear.
"One of the key things is that James herself identifies her influences as Jane Austen, George Eliot and Anthony Trollope," explains Dr. Maitzen. "Her characters are always reading Trollope novels, it's really funny!"
For Dr. Maitzen, these spheres exist in thematic dialogue as well. James' 1972 novel An Unsuitable Job for a Woman, "… is really a critique of utilitarianism, similar to most Dickens novels," she says.
There is also another connection. In addition to courses such as The 19th-Century British Novel from Dickens to Hardy, and The Victorian 'Woman Question', Dr. Maitzen has taught several courses on crime fiction at Dalhousie. Receiving the commission to write the essay was a welcome opportunity to explore a subject area that has developed into something of a subspecialty.
Bridging the spheres of literary criticism as it exists in academia and in more widely distributed formats such as this is something Dr. Maitzen feels strongly about. While she acknowledges that not every academic's work lends itself to regular engagement with an audience outside of one's peers, she says that when it works, "it complements the work of the university." She considers it especially valuable as a way to bring "hard-won academic expertise" such as she has developed to a broader public—including those who are unable to participate in a university education:
"The most important public-facing work academics do is our teaching, but of course not everyone gets to go to university."
The realization that her teaching was one of the most rewarding parts of her job, in large part for the interaction with students and the resulting exchange of ideas further motivated Dr. Maitzen to explore different critical environments.
"I was asking myself why don't I know more than I do about non-academic criticism, so I went looking for it … I wanted to be part of a good conversation about literature and what it means and how we understand it."
To learn more about Dr. Maitzen's research, find essays and reviews and read more about the courses she teaches, visit Dr. Maitzen's blog, Novel Readings.