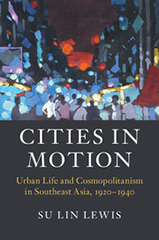 Dr. Su Lin Lewis (BAH '01), a lecturer of Modern History at the University of Bristol, has published her first book, entitled Cities in Motion: Urban and Cosmopolitanism in Southeast Asia, 1920-1940.
Dr. Lewis' book considers three port-cities of Southeast Asia – Bangkok, Penang and Rangoon – during a period of post-war transformation, with focus on the increasing cross-cultural interaction in civic culture between migrant and local populations in that period.
After graduating from King's with a Combined Honours in History and Contemporary Studies, Dr. Lewis received her masters from the University of London and her doctorate from Cambridge. She has taught at the University of Birmingham and at Berkeley, California.