Sports have long been a big part of Ilyas Kurbanov's life and now he's using this passion to find work opportunities
As he was finishing his second-to-last year of his Honours Bachelor of Journalism Degree at King's this spring, Montrealer Ilyas Kurbanov also got a new job doing sports reporting for OXP Media.
OXP Media is a multimedia sports firm, telling stories of athletes, coaches, owners, trainers and fans through podcasts and web-based material. Though the current pandemic has meant the suspension of most sports, Kurbanov is gearing up to cover the NBA draft, College ball analytics and player recruitment. "Based on statistics and possible interviews, I'll generate a story to run on web and social," he said. "It's also a growing platform. A growing brand." And he said he's excited to help OXP Media expand its audience.
Despite some challenges, sports—and particularly basketball—have been a constant in Kurbanov's life. He's been a die-hard fan since he was eight years old and credits the game with teaching him life lessons both on and off the court.
Originally from Turkmenistan, Kurbanov moved to Montreal when he was 16. He only spoke Russian. "I ended up starting [to learn] my English on the streets," Kurbanov said. He lived next to the park where all the ballers played. "When I stepped on the court, I kind of had no choice but to speak, to start learning."
When Kurbanov left Turkmenistan, he left all his friends. The only thing he had was family. When he left Montreal for Halifax, he had to leave his family behind this time. He got through it with the help of the King's sports community. "Everyone is close [with] one another, it's like a family."
"Coming to King's probably was the biggest decision I've made, and I haven't regretted it one bit," said Kurbanov. "Everyone knows you by name, you know it's great. It just can't get any better I believe."
Kurbanov joined the Blue Devils men's basketball team which he played on for two years. Plus he's worked part-time at King's gym and has done webcasting for both the Blue Devils and Dalhousie Tigers athletics programs.
"Where I'm from, people don't get an opportunity to go to school," he said. Keeping things in perspective, the Turkmen talent is incredibly grateful to have access to a good education though it wasn't always clear to him what he wanted to become.
"I had thoughts of, 'Oh I want to be a doctor,' then I switched my mind, 'I want to be a lawyer,' then I switched my mind again and at a certain point I was just like, 'Okay, I don't know what I'm going to do."
Sports internship changed everything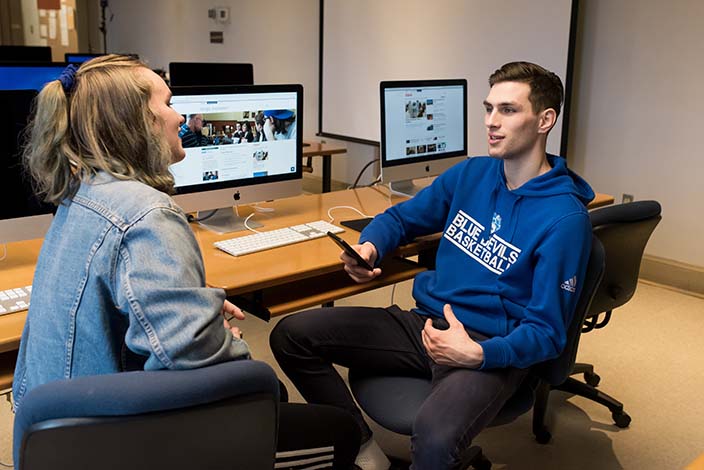 He wouldn't do any of that. His passion for sports led him to an internship at TSN 690 radio in Montreal. Stepping into that studio changed everything for him. "You just see the intensity, see the knowledge," Kurbanov said. "It was where I found out: maybe journalism is what I want to do."
Kurbanov has also approached whatever he's doing with a strong work ethic and full commitment. He's juggled a lot, but said he doesn't feel overwhelmed by it. "Whatever I do I always work hard and do it the right way," Kurbanov said.
Now entering his final year of the BJ(Hons) program, he's excited to keeping learning more and applying his new journalism knowledge and skills in his new job with OXP media.