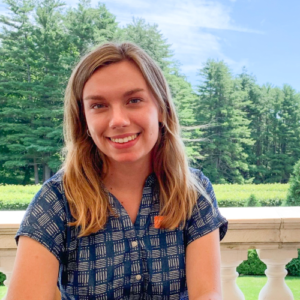 University of King's College student Lucy Boyd, BA(Hons)'23, is a finalist for the first global cohort of McCall MacBain Scholars at McGill University.
The scholarships are the result of a landmark $200 million gift in 2019 by John and Marcy McCall MacBain, the second-largest single donation in Canadian history. Designed to encourage purposeful leadership, the scholarships enable students to pursue a fully funded master's or professional degree while participating in mentorship, coaching, and a leadership development program.
Lucy is among 88 finalists chosen from across Canada and around the world after a first round of regional interviews. She will attend the final round of interviews in Montréal from March 8 to 12, meeting with leaders from academia, business, government, and the social sector.
Students and graduates from more than 1,200 universities applied for the McCall MacBain Scholarships in this first year of global admissions, and 242 participated in regional interviews with local leaders in October and November before the 88 finalists were selected. Up to 30 McCall MacBain Scholars will be selected after final interviews.
"I'm honoured to be a finalist––and being chosen was quite a surprise!" Lucy says, adding, "I'm both nervous and excited about the trip to Montreal and hoping to make some connections there."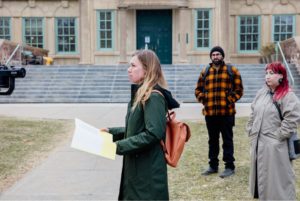 Originally from Ottawa, Lucy is completing a combined honours degree in History and Early Modern Studies at King's. She spearheaded the name change of the UKing's Literary Society and implemented a campus reading series in partnership with several student groups and organizations. In addition, Lucy coordinated events for the World University Service of Canada chapter, helped reorganize the Dalhousie Student Union archives, and serves on the board of the Nova Scotia Women's History Society. She has worked throughout the school year and most summers, including recently as a symposium coordinator and research assistant. Lucy hopes to become a public historian.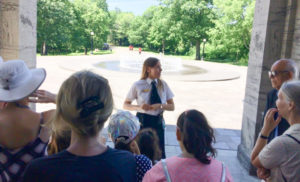 "Lucy exemplifies the spirit of thoughtful leadership and service to others that the McCall MacBain Scholarships reward," says University of King's College President William Lahey.  
"I'm delighted that the many contributions Lucy has made to King's and the wider community are being recognized by the selection committee. On behalf of the university, I wish her great success in the final round of competition. Regardless of the outcome, Lucy's future is undoubtedly a bright one." 
"McGill, Montréal, Québec, and Canada attract talented students from all over the world," said John McCall MacBain, Chair of the McCall MacBain Scholarships at McGill.
"Our aim is to provide a life-changing opportunity for students who have a track record of contributing to their communities and a genuine desire to make a positive impact."
"Our committees were delighted to receive great interest from all corners of the world," said Natasha Sawh, Dean of the McCall MacBain Scholarships at McGill. "More than 280 volunteers were involved in assessing candidates. They looked not only for academic strength, but for qualities like integrity, kindness, curiosity, and courage."
If not selected as a McCall MacBain Scholar, Lucy is eligible to receive a $10,000 Canadian Finalist Award for studies at McGill.
Applications will open in June 2023 for September 2024 admission. Interested University of King's College students are invited to an information session on February 14 at 2:30 PM at Arts & Administration Building, Boardroom, 2nd Floor 6350 Coburg Road, Halifax, NS B3H 2A1, Canada to learn more.