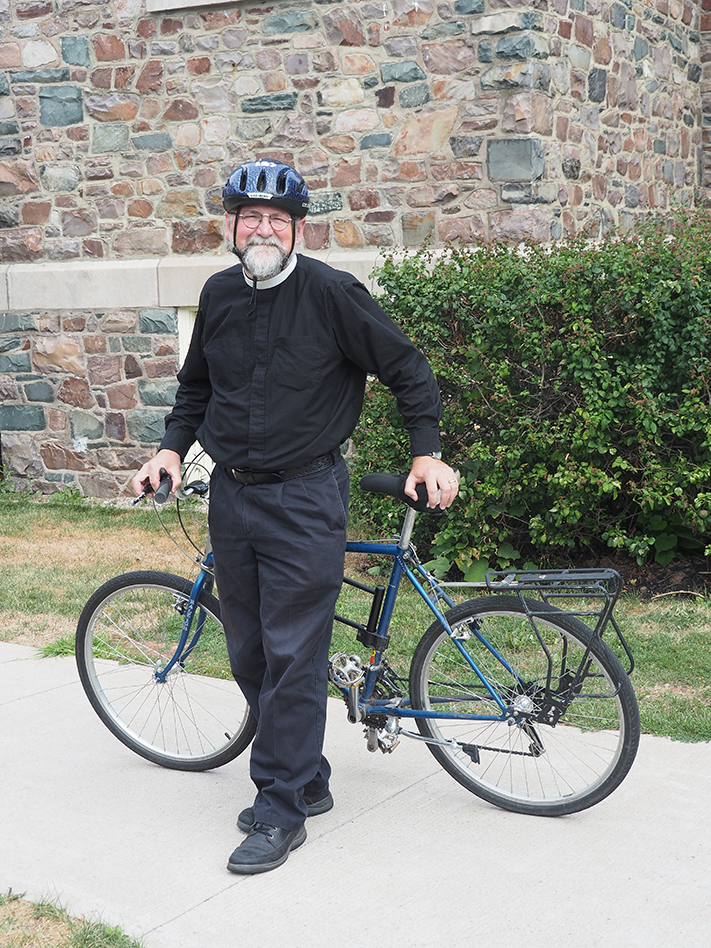 Although he's only been King's Chaplain since Aug. 1, 2018, the Rev. Dr. Ranall Ingalls, who prefers to be addressed as Fr. Ingalls or Ranall, has been a friend and guest preacher here for much longer.
"King's has been in my life for more than 30 years in an incredibly transformative way," Ranall says.
Born in New Brunswick and raised in northern British Columbia, Ranall studied and worked in Winnipeg, went to seminary in Wisconsin, and returned to New Brunswick to serve several rural parishes and one in Saint John. He holds bachelor's and master's degrees in philosophy, a master of divinity, and a PhD in Theology from the University of Wales, Lampeter.
In his first Parish, Ranall served with King's alumnus Fr. Barry Craig, BA(Hons)'83, now Principal of Huron College, and a few years later the two taught together in the Philosophy Department at St. Thomas University in Fredericton.
Fr. Craig also encouraged Ranall, early in his career, to respond to a paper written by King's alumnus Rev. Dr. Robert Darwin Crouse, BA'51, MTH'57, at a conference. Fr. Crouse's influence on Ranall continues to this day, as one of Father Crouse's many quotables is "Recollection is the fundamental task of education." Ranall echoed this sentiment in explaining his understanding of the chapel's place at King's, a secular university: "Memory and attentiveness. FYP and the other programs—Early Modern Studies, Classics, etc.—all of these are about remembering. Being attentive to people different than us, who sometimes humiliate and enrage us. At the same time, in the chapel particularly, there's a long history of being attentive to what puzzles, enrages and contradicts us, to seek to engage and cultivate friendships."
King's, Ranall says, is open and responsive to the world and its history. "The reality, as the last few decades have shown, is that religion isn't going away. People coming from all parts of the world are bringing their religions with them—humans with reasons for believing and acting as they do. We need to try to understand them."
King's College Chapel is open to people of all faiths or none and has a scope of activities beyond ministry. For example, it holds off-site wilderness retreats and organizes volunteerism such as tutoring opportunities through an affiliation with St. George's YouthNet.
Ranall stresses non-religious students are welcomed in the chapel community, and he encourages them to, "Get in my face. My mind and heart will die if I'm left in my own silo." His office is just off the A&A lobby, or you can also stop him if you see him cycling or walking Finnegan, his Corgi, around campus.
Ranall has been a priest since 1990. He says what he loves most about serving is the opportunity to be with people as new horizons open for them, sometimes in the face of suffering and even death. "A priest gets to be with people at really important moments in their life. That's a great privilege."
He moved to Halifax this summer with his wife Sheryl, who's a speech language pathologist, and he has three sons—one of whom is a King's student.
Although it's early days, Ranall says his conversations with King's students thus far have been encouraging. "Students are thoughtful and compassionate and bright. They're very much alive. It is a privilege to plan and work with them."
As he sees it, his first job is to listen. "Whatever grows needs to start from that place of attentive, humble listening."