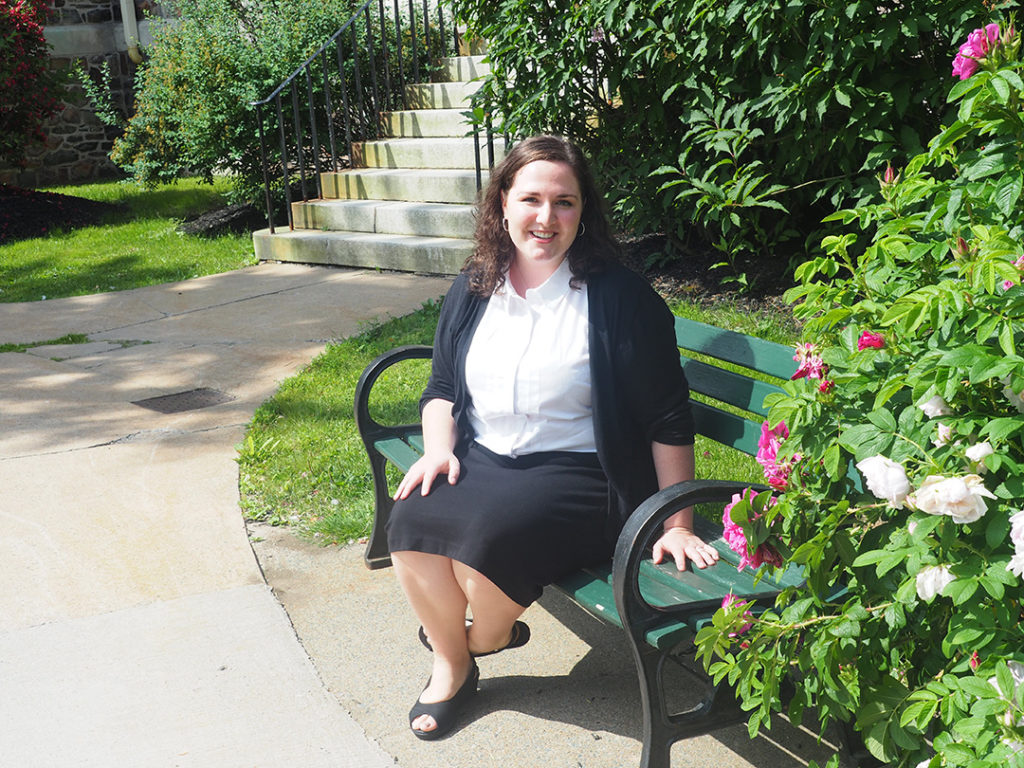 Katie Merwin, BA(Hons)'11, remembers arriving at King's on move-in day in 2007. She'd come from Sudbury, Ont. and was about to start the Foundation Year Program. She knew no one and was nervous. The weight of expectations—her own and others—bore down on her as she walked toward campus with her mom.
"I had this feeling my life was about to change because it was. I turned the corner and saw the entrance to the King's Quad with the King's sign and there were about a dozen upper-year students cheering, clapping and welcoming me," Katie says. "There was a real sense of welcome, a real sense of belonging."
She moved into Alexandra Hall residence, went on to complete a Bachelor of Arts in history at King's and Dalhousie, and was involved in many co-curricular activities including the Chapel Choir and re-starting SAMS (the St. Andrew's Mission Society) which connected students to opportunities with non-profit organizations.
After graduating, she moved to Europe to complete two masters degrees in Global Studies: an MA at the University of Vienna, and an MSc at the London School of Economics. But King's lured her back to Halifax to become a residence don and chapel administrator in 2013, and the next year she also served as Acting Dean of Students.
"It was a bit of a surprise to be back on campus. I thought the move to Europe would be a long-term change for me. But sometimes you don't know what you've got until it's gone," Katie says. She mentions living in community, the smallness, getting to know her professors one on one and having that truly integrated learning experience as things she loves about King's—but she says it's the relationships she's formed here that have been most special.
In 2014 Katie took a position as Program Coordinator with the Canadian Centre of Ethics in Public Affairs, and in 2016 she moved into a new role in Research Services with Dalhousie University. "The professional experience at Dalhousie, which is an important relationship, has really informed my understanding of King's place in the world in an academic environment," Katie says, adding that it all just seemed to come together when the Dean's job opened up.
The timing indeed seemed right. Katie was married last month in King's Chapel by Fr. Gary Thorne, and her Dean of Students predecessor, Fr. Nick Hatt, was at the wedding. She's also back living in Alexandra Hall (now with her husband, Scott), where she first lived as a student in 2007/08.
"I'm where I'm meant to be, but absolutely with a sense of lots to learn, opportunity for growth, and big shoes to fill," Katie says.
King's President William Lahey shared his support, saying, "Welcome back Katie. I know you will do an extraordinary job for our students and the King's community."
As Dean of Students, Katie is most excited about getting to know and working with students. She wants to help create a network of support for their needs, be they mental health, safety or other. "Listening and learning," she says, is her top priority.
And she glances at that photo of herself on move-in day occasionally to remind herself that she was once an anxious first-year student unsure of what to expect.
"As Dean I really carry that experience with me. What can I do to give not only residence students, but all students on campus that experience of such welcome and a sense of belonging?" Katie asks.
"I see my role as a community builder on campus. Being that model. Setting that tone for the collegial environment we know and love here. That intangible aspect that makes King's, King's."