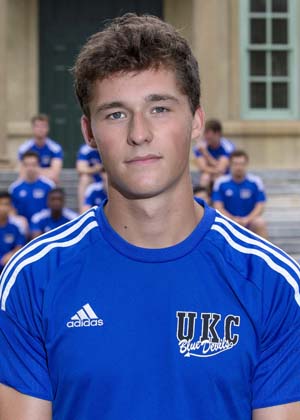 UKC Blue Devils soccer player Jack Creaser set a record on Oct. 5 when he scored six goals—the most goals scored in one game in the school's history—and was named ACAA player of the week.
"Jack is a key member of our starting lineup. He plays the whole game, every game, at a very high intensity that sets a high standard for the rest of our team," said Blue Devils soccer coach Jamie McGinnis.
King's dominated DalAC in the mid-week game and Creaser, a second-year King's science student from Mahone Bay, N.S. who plays striker, scored four goals in the first half and added two more late in the second half to lead King's to a seven-zero victory.
"I was surprised in finding out that I had set a King's record…it's pretty cool that it happened, but it would mean more to me if our team as a whole succeeded this season," said Creaser. The team has now moved ahead of Crandall University to second place in league standings.
"At the beginning, it felt like any other game, but it was when I had gotten my third goal in the first half that I realized I must be in the right places at the right time in that game," said Creaser.
Last year Creaser won Rookie of the Year for the league. "This year he is building off of that success, and developing some budding leadership skills," said McGinnis.
It's the second time a King's soccer player has one ACAA athlete of the week this season. In September, goalie Sam White earned the same honour by completing two shutouts in one weekend.
The next game will be played at home on Saturday, Oct. 14 at 4 p.m. at Wickwire Turf against St. Thomas University.