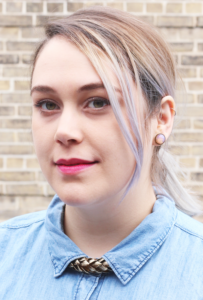 It was the spring of 2014, and Lauren McKeon — award-winning freelance writer and editor of This Magazine — was "stuck in bed with a broken leg." She had time to think.
"One of the questions I kept returning to: How the heck does anybody write a book?"
McKeon answered that question by enrolling in the University of King's College's two-year limited-residency Master's in Creative Nonfiction program. At King's, she wrote a book answering yet another question that was on her mind: "If women aren't connecting with feminism, what's wrong with it?"
F-Bomb: Dispatches from the War on Feminism will be published this fall by Goose Lane Editions. As the catalogue copy explains: "Through a series of dispatches from the frontlines of the new gender wars, Lauren McKeon explores generational attitudes, debates over inclusiveness, and differing views on the intersection of race, class, and gender. F-Bomb … confronts the uncomfortable truth: for gender equality to prevail, we first need to understand where feminism has gone wrong and where it can go from here."
McKeon is the eighth graduate of King's three-year-old MFA program to have already earned a book deal.
"I know a lot of emphasis is put on the program helping students write a book," McKeon says, "but it's so much more than that: we learn the ins-and-outs of the publishing business, we're taught to push our creative and literary boundaries and become better writers, and we do a deep dive into the genre's best writing."
She says advice from the program's mentors was "invaluable — not only in helping to shape my manuscript, but in keeping my spirits up as I wrote the book, hit walls, and fully waded into the publishing world. They cheered me on, kicked my butt when I needed it, asked tough questions, made me think in new ways and consider new perspectives, immensely helped improve my writing, and so much more. I can't thank them enough."
BenBella Books, an American boutique publisher, will release F-Bomb in the United States in the spring of 2018.
As for McKeon, she's busy with a couple of ghostwriting projects and is in the "brainstorming terrible ideas" phase for her next book.
You can find more information on Lauren's book here, and on the King's MFA in Creative Nonfiction program here.