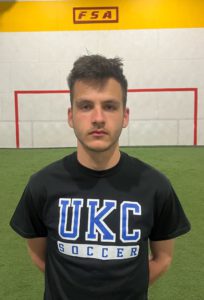 Nova Scotia's own Grayson Walker has put pen to paper for the Blue Devils, joining the men's soccer programs list of blossoming young talent. A stalwart defender, Walker is a product of Farias Soccer Academy (FSA) and a graduate of Sackville High School. Representing FSA in the Metro Senior Men's Soccer League, Grayson netted twice, aiding his side to a playoff appearance. Reliable with the ball at his feet, Walker carries the ball forward from the back line comfortably and can use his six-foot-two height as a scoring threat on set pieces.
"I chose King's because I loved the atmosphere not only for my education but as well as the competition the soccer program brings," says Walker. "I'm excited to continue my soccer career at the college level. I can't wait to get to the field and start putting in the work to win championships."
While playing for King's, Grayson intends to study in the Bachelor of Science program, majoring in biochemistry.
---
Interested in becoming a King's Blue Devil and learning about King's? Fill out a recruitment form.