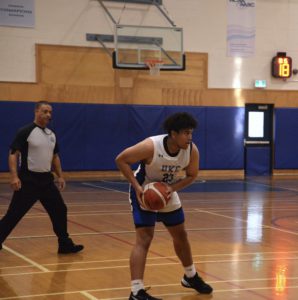 His strong, clear focus likely won't be the first thing you notice about Caleb Rennie unless, perhaps, your introduction to him is on the basketball court. A first-year King's student and recipient of both the Dr. Carrie Best Scholarship and the Sylvia D. Hamilton Award, Rennie speaks thoughtfully and with an easy, understated manner that belies a drive and determination that began long before he arrived at King's.
Rennie, a native of Ajax, Ontario, is one of a handful of freshman athletes on this year's King's Blue Devils basketball team. But Rennie brings considerable experience to his position as a team point guard; he came to King's following a post-graduate year at the International Sports Academy, a school and training institution in Cleveland, Ohio where he honed his skills with hundreds of like-minded young athletes. "It was a great experience," Rennie says. "It was my first time away from home and I learned to be self-reliant. It made me much more independent."
University was key to Rennie's next step, both for an education and to play basketball at the university level. "I knew that if I worked hard opportunities would come," he says. And they did, among them, University of King's College. "I met a number of coaches from different universities, and I was considering things," he explains. "Then King's came along, and I saw what life would be like there.  I really fell in love with it, the campus, how the coaches are and how the team is. It felt like the coaches and the school as a whole cared about me as a person – it was not just about basketball. I felt that King's could be a second home for me."
After the pace and intensity of daily life in suburban Toronto and his year in Ohio with hundreds of ambitious young athletes, King's was something brand new to him. "Going somewhere smaller, where everyone knows each other and it's a family feeling – it's what I love about King's." Halifax also plays a part. "I love the city's slower pace. Everybody has time for you."
For his Dr. Carrie Best Scholarship application essay, Rennie wrote about his personal experience of the pandemic. "I had a choice," he says. "I could sit around and play video games and watch movies during lockdown or I could use it as an opportunity to get better and push myself forward." He chose the latter. "I trained every day, doing push-ups, getting shots up in the house…I just did it. Somehow it motivated me to improve myself."
Enrolled in a Bachelor of Arts program, Rennie is keeping his academic path open for the moment, sampling a range of classes to see what takes hold. One way or another, however, he envisions business – along with basketball, of course – in his future.
Life on the King's campus is one of his great joys. "I love how close together everything is. And how everyone knows each other. No one is afraid to talk or ask you how your day is going, everyone is willing to help each other, be there for each other. Every time I go to Prince Hall for meals, I seem to meet someone new." If Rennie seems surprised at this, it's because of the strong contrast between life at King's and his experience in Ohio. "Last year everyone was an athlete, totally focused on their goals and how they were going to get to the next level," he explains. "At King's people are concerned about others as well as themselves. It's, 'how can I help someone with their next goal, too?'. That's something really cool that a community can have. It turns a community into a family."
Rennie was in Ohio when he heard he'd been awarded the scholarships. "I was just finishing practice and I got a call from a random number. I answered because it was a Nova Scotia area code," he says. "It was the University President calling to tell me himself. It felt amazing. I realized my essay must have been as good as I thought and it gave me a real feeling of accomplishment.  I called my family and shared the moment with them…everyone was happy and excited and proud of me. It was a warm feeling, a core memory to be sure."