Among a number of prestigious and coveted scholarships, the Loran Provincial Award attracts attention for its elevated criteria. The selection committee looks for qualities of integrity, courage, compassion and leadership, attributes hard enough to gauge in mature professionals, let alone students. The Loran's commitment to youth and its rigorous selection process, however, leads it, each year, to 60 exceptional Canadian recipients of its provincial awards. Recipients can study at any accredited public university in Canada and this year two have chosen to study at King's.
Ritu Shah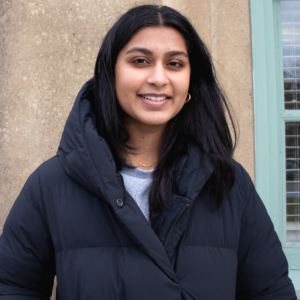 Ritu Shah, newly minted Loran Provincial Award recipient and King's student, moves quickly, very quickly, in every imaginable way. She's moved at what seems like warp speed navigating a new city, a new culture and making a place for herself and prospering within it, all the while taking a leadership role in most of what she's done. Oh, and throw in a pandemic; it arrived soon after Ritu did.
In 2019 Shah moved with her family from Pune—a dynamic city of more than 5,000,000 in the west of India, to Nova Scotia, settling in Bedford.  "I can't say it wasn't a challenge at first. It's culturally so different here, it was hard to make friends." But Shah had the perfect international calling card: she's a competitive athlete, a high-level badminton player. "I focused on badminton, playing with Badminton Nova Scotia. I won my first national tournament three months after moving here." When things opened up after the pandemic, Shah made her move, following her natural bent to create for herself the things she wanted to experience. "I formed a neuroscience club at school and got lots of kids involved," she says. "And I did a lot of volunteering."
Shah slowly adjusted to the city's slower pace and came to appreciate it. She did not, however, adjust hers. She devoted much of her time to badminton, competing and coaching. "Badminton is not an incredibly developed sport here. It is very big in India and I had a lot of good training—and a lot to teach. I helped to organize and run a series of clinics and summer camps at the Canada Games Centre. And during the pandemic I volunteered at a Covid testing centre. I wanted to be useful."
For Shah, King's was a logical choice. "King's has an amazing badminton team and I'm not sure everyone knows that," she says. A lot of the great players in Atlantic Canada go to King's." There's no question for Shah that medical school is on her personal horizon and that neuroscience, with which she's fascinated, will play a part. Her first year at King's, she kept her focus strategically narrow—getting her stride academically and, of course, she played badminton. In her coming second year, she'll join clubs and organizations and volunteer.
Shah vividly remembers the moment she got the news that she was a Loran recipient. "I was at badminton training and an email came in that I'd been chosen by my high school as a Loran Scholarship applicant. And I was also at training and snuck a look at my phone when I found out I was a semi-finalist and I'd be getting an interview. My coach had a strict no phone rule! Then again, a few weeks later I was at practice and I got an email and I just had to read it. My coach was yelling at me to put my phone away and I'm yelling, 'Wait, wait! You have to read this…I got the Loran Provincial Award!'"
Luke Kotaska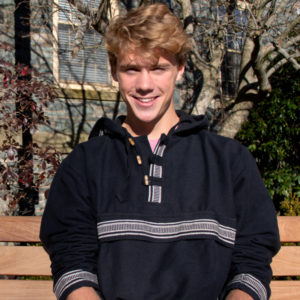 If there's truth to the maxim that place informs our path, then the direction was set for Loran Provincial Award recipient Luke Kotaska when his parents, both physicians, moved from Vancouver to Yellowknife, Northwest Territories when Luke was two. And while geography has clearly impacted Luke's choices, it certainly hasn't limited them. Athletics and pursuits in the great outdoors—he embraced leadership roles in both—were undoubtedly what brought him to the attention of the Loran selection committee. "I grew up playing sports—lots of hockey, lots of soccer," he explains. "The winters are long and a bit nippy," he laughs, "and you have maybe four hours of daylight around solstice. You have to keep busy and for me sports were a big part of that." Hockey became increasingly important to Kotaska as he reached his teens, so much so that he spent a year at St. George's School, a Vancouver boarding school known for its exceptional hockey program. In Yellowknife, Kotaska played on development teams, the high-performance teams that travelled south to compete provincially. It was here that he had the opportunity to develop and explore his leadership potential. He was captain of the Development Program Hockey team 21-22 and captain of Team NT Soccer at the 2022 Canada Summer Games.
If you have not experienced the magnificence of the north, it's easy to naïvely wonder why anyone would choose to live in such a challenging climate. Kotaska straightens that out: "Why the north? Accessibility to nature," he says. "Yellowknife is on Great Slave Lake, one of the most beautiful lakes in the world, and there are wild and remote rivers. There's world class fishing, canoeing, kayaking and hiking." Kotaska began guiding in his early teens, helping to lead canoe trips on the lake and rivers for local adventure companies. It was his work with the Ayalik Fund, however, that he's most proud of. The nonprofit Ayalik Fund is a Canadian charity that helps Inuit youth from Nunavut build self-esteem and self-confidence through outdoor adventure. "I helped co-lead multiday trips…. It was fantastic and it matured me a lot," he says.
Wanting to experience Eastern Canada led Kotaska to King's. "I wanted to go to a smaller school, a personal school, but I also wanted the experience of living in a good-sized city," he explains. The opportunity to play soccer at King's—Kotaska plays for the Blue Devils—and the Foundation Year Program clinched it. "FYP is amazing. I'm a big fan and supporter of it. It's a lot of work but you will get as much out of it as you put in." Asked about his future plans, Kotaska is decidedly undecided. While he intends to take the science prerequisites for medical school, he wants to move slowly. "I'm going to take my time and explore a range of classes. My parents and I agree. There's no rush."