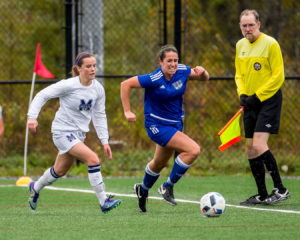 At the Atlantic Collegiate Athletic Association (ACAA) soccer championships this past weekend, both the men's and women's teams braved the elements and represented their school with pride.
The women's Blue Devils team entered as the third seed after going 6-6 in the regular season. They faced off against the second-seeded Mount St Vincent Mystics in a tightly contested semi-final. Ultimately, their cross-town rivals 1-0 . Kristin Berthelsen won player of the game honours for King's.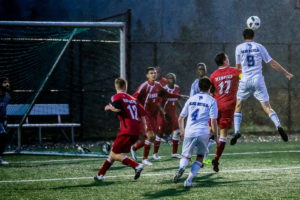 The men's team finished a stellar season with a 7-4-1 record. In Saturday's semi-final match, they stormed past the University of New Brunswick – Saint John 3-0 to earn a berth in the final. First year player Jack Creaser won player of the game for King's.
In the final they challenged undefeated Holland College with the score 0-0 at half-time, but a penalty in the box conceded by King's turned the tide, and Holland pulled away for a 3-0. King's earned the silver medal for their effort and James Whiteman received player of the game for King's.
Congratulations to both teams for their success this season.
Read more: Creaser, Young win major soccer awards; King's scores 8 All-Conference awards.
Photos from the ACAA Championships: