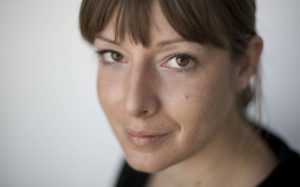 During the University of King's College MFA in Creative Nonfiction winter residency in Toronto in January 2016, some of Canada's top literary agents offered presentations to students about themselves, their agencies and their approach to publishing. Chris Bucci of the Anne McDermid Agency was one of them.
Jessica McDiarmid was intrigued by what she heard. "I looked up a bit more about him — who his authors were, what kind of books he seemed to be interested in." Later, at the urging of her mentor, she queried him directly. "He asked to see the proposal and sample chapters. We had a long phone chat to — I suppose — kind of compare our visions for the book. It was a good fit and that was that."
It was. Three months before she graduated in May 2016, McDiarmid, in fact, had a deal with Doubleday Canada to publish her MFA project, Highway of Tears: The Missing, The Murdered, The Mystery. Simon & Schuster imprint Atria has since acquired American publishing rights.
Highway of Tears "tells the stories of the girls and women who vanished from a highway in northwest B.C. in recent decades," explains McDiarmid who herself grew up along the same highway. "It explores the myriad factors that have left indigenous women and girls vulnerable and exposes the racism and indifference that permeated officialdom and communities. And it links what has happened in this remote corner of the country to the larger national tragedy of missing and murdered indigenous women."
A former Toronto Star reporter and journalism trainer with Journalists for Human Rights in Sierra Leone, Africa, McDiarmid says Highway of Tears "was always the book I was supposed to write." She applied to the King's MFA because the program "suited my goals pretty perfectly. I was really drawn to the pragmatic focus — how to write a proposal, get an agent, how the publishing industry works — because that's the side of writing that's always left me befuddled."
Working with her mentors in the program, she says, "was like working with a fantastic editor — an experience that makes you, as a writer, just incredibly grateful. We did a lot of talking through the idea of the overall story and then the structure that would best serve it… After spending close to a decade writing mainly for newspapers, it took some time and work to slow my writing down, unpack ideas and scenes, really take advantage of the extra space I had to work with. They had a lot of excellent suggestions on everything from the big picture stuff — what a chapter is really about, what you're trying to demonstrate, etc. — down to minute details of writing and ways to make it stronger."
McDiarmid, who will be submitting her final manuscript to the publishers in September 2017, says the girls and women lost along the Highway of Tears, and their families, "deserve recognition — and answers. I owe them that. We all do."