Students in the Master of Fine Arts in Creative Nonfiction program have just completed their week-long publishing residencies in Toronto, where they met with agents and editors, and fine-tuned their book pitches.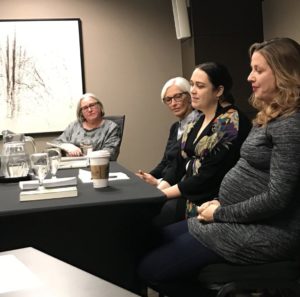 The week began with a panel of MFA alumni whose books have been or are about to be published. Lauren McKeon, Helena Moncrieff and Stacey May Fowles gave students a behind-the-scenes look at the process of getting a book deal, working with their editors and publishers, and promoting their books.
Authors Linden MacIntyre, Tanya Talaga and Kamal Al-Solaylee also shared their experiences of crafting nonfiction, from research and character-building, to writing issues and advocacy nonfiction.
"Great nonfiction restores a heartbeat to dead people … the key is to focus on the people," was author & journalist Linden MacIntyre's advice to the MFA students.
In talking about the challenges of writing across cultures, Tanya Talaga, who wrote Seven Fallen Feathers about seven Indigenous high school students who died in Thunder Bay, Ont., advised students to be respectful and to avoid being 'story takers.'
"There's something quite remarkable about the power of a book," Tanya said.
Guests covered a wide range of book publishing topics, from contracts and libel law, to self-publishing and promotion, seeking grants, publishing e-books and independent publishing.
Field trips included visiting Kobo to hear about e-book, audio book and self-publishing; time with independent bookstore owner Ben McNally at Ben McNally Books; and a reception at HarperCollins Canada where the group heard directly from their nonfiction editors about what they're looking for in proposals and pitches.
"The week ended with one-to-one pitching sessions, with students meeting agents and editors for one-to-one discussions about their individual book projects," said Kim Pittaway, executive director of King's MFA creative nonfiction program.
MFA student Jenn Verma (@JenniferYVerma) described the residency in a series of tweets over the course of the week, calling it "a wonderful week."