King's Men's Basketball has completed the signings of Jack and Will Patterson of British Columbia. Jack and Will, who stand 2.8m (6′ 10″) and 2.01m (6′ 7″) respectively, cite their visit to Halifax as key in their decision to choose King's.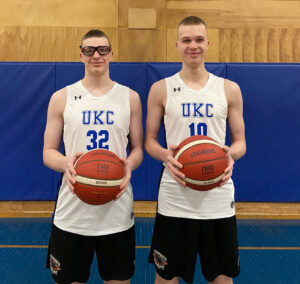 "Our visit to the university solidified that the Foundation (Year) Program is a great fit and I really appreciated the hospitality and welcome from staff and the players," says Jack. "I am grateful to Coach Stevenson for the opportunity to attend and play for the UKC Blue Devils."
Equally important for the brothers was the opportunity to continue playing together. "When Coach Stevenson contacted me to play for the Blue Devils I was thrilled that he also wanted my twin Jack. He saw that we complemented each other but have a different style of game. I visited the university and met the players, toured the campus and it was apparent that this would be a great opportunity for my academic and basketball growth." says Will. "I hope to bring my physicality, court experience and leadership and look forward to learning from the team and the coaches."
The Patterson twins presently play within the Panther Hoops International Basketball Academy based out of Langley, B.C. and credit their development and success on the court to Panther Hoops coach, Doug Dowell, who coached the twins within the club system. "Coach Dowell and his team at Panther Hoops International Academy ha[ve] provided a solid foundation and I intend to give my all for the Blue Devils team," Will Patterson says.
King's Head Coach, Luc Stevenson, is equally enthusiastic about the twin choice in selecting King's for university. "Jack brings experience from playing high level games in the U.S. and Canada for several years with international players at Panther Hoops Prep and alongside his twin Will, brings a mature and consistent work ethic to his study and to the court. His height, international experience and his skill level will be exciting to see," says Stevenson. "Will is unique in that he has a high basketball IQ and is able to read the floor, he has played as guard, forward and centre in an international prep program for Panther Hoops against top opposition. He has outstanding footwork and a patient and tenacious back-to-basket post game inclusive of sky hooks."
The Pattersons will both be enrolling in the Foundation Year Program in their first year, while playing for the Blue Devils on the hardwood.