Assistant Professor of Journalism Pauline Dakin (MFA '15) has won the 2018 Edna Staebler Award for Creative Non-Fiction for her memoir, Run, Hide, Repeat: A Memoir of a Fugitive Childhood (Viking).
"This is a true story unlike any other you've read that will keep you guessing from beginning to end," said Bruce Gillespie, an award juror and professor in Laurier's Digital Media and Journalism program. "More than just a mystery, Dakin's memoir is also a moving reflection on the complexity of family relationships."
The $10,000 Edna Staebler Award for Creative Non-Fiction recognizes Canadian writers for a first or second work of creative non-fiction that includes a Canadian locale and/or significance. It was established and endowed by writer and award-winning journalist Edna Staebler in 1991.
"I'm so thrilled about this. [It's] The only book award that's specifically for works of creative non-fiction. I'm thinking about my profs, mentors and colleagues in King's MFA in creative non-fiction who were among the first to hear my story and said 'yes, write that book.' Thanks for the good advice!" Pauline said.
Pauline's best-selling book tells the story of a Dakin's childhood and running away with her family—twice—to restart their lives. When she was in her 20s she was told by her mother they had been running from the mafia. But the truth was even more shocking: the story was a cruel hoax.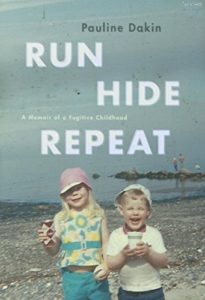 Pauline says completing the Master of Fine Arts in Creative Nonfiction degree, a joint offering of the University of King's College's School of Journalism and Dalhousie University's Faculty of Graduate Studies, gave her the structure and support she needed to write such a personal story.
"I'm so grateful to my brother Ted who trusted me with our story and has supported me unconditionally through its telling," Pauline said.
Prior to coming to King's, Pauline was Senior Producer, Current Affairs Programming (Nova Scotia) for CBC Radio, national health reporter for CBC News, and host of the regional documentary program Atlantic Voice. She teaches in the Bachelor of Journalism and Bachelor of Journalism (Hons) programs at King's. She also writes and produces documentaries.
Run, Hide, Repeat is her first book.